The demand for Imitation jewellery has surged by over 85 per cent in the last one year on account of sharp rise in gold and silver prices, a study by industry body Assocham has said.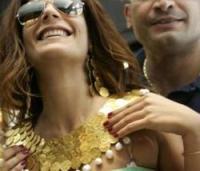 The imitation jewellery market, which is about Rs 8,000 crore (Rs 80 billion) in India presently, is expected to touch Rs 15,000 crore (Rs 150 billion) by 2015 owing to growing demand and popularity, Assocham said in the study.

"The main reasons attributed to the rise in demand include volatile gold prices, fashion conscious consumers, disposable incomes and easy to carry nature of such jewellery," Assocham Secretary General D S Rawat said.

The study said the high prices of gold have changed the customer
preference from fine jewellery to relatively inexpensive but equally flashy costume jewellery, especially during festivals and weddings.
The prices of gold and silver saw an upward trend in the last one year.
At present, gold prices are ruling at Rs 32,450 per 10g, up from Rs 29,205 during the same period last year. Silver rates are about Rs 62,000 per kg currently compared to Rs 56,400 per kg in the corresponding period last year.
Assocham said it has surveyed 150 imitation jewellery manufacturers, wholesalers and retailers in various cities for the study.
"About 75 per cent of the shopkeepers said women prefer imitation jewellery as it is more affordable and can be customised according to the dress. Also, it is available in various designs and colours," the study said.