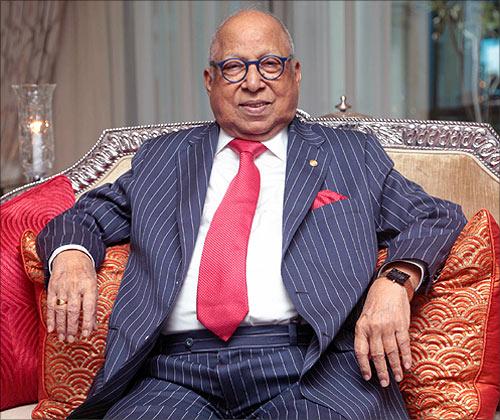 The grand old man of Indian hospitality industry, Captain C P Krishnan Nair on Thursday stepped down as the Chairman of Hotel Leelaventure, the company he founded in 1981.
Nair, 91, will be succeeded by his eldest son Vivek Nair, who has been elevated by the company's board to be the Chairman a d Manging Director.
Considering the invaluable contribution to the company, the board has honoured Capt C P Krishnan Nair by appointing him as the "Chairman Emeritus" of the company with effect from today, Hotel Leelaventure said in a filing to BSE.
"Vivek Nair currently the Vice-Chairman and Managing Director of the company has been elevated to the position of Chairman and Manging Director," it added.
The board has also approved the appointment of Nair's younger son, Dinesh Nair as the Co-Chairman and Joint Managing Director of the company, the company said.
Hotel Leelaventure currently has six operating hotels and five hotels in the development.
The hospitality group also narrowed its net loss to Rs 96.91 crore for the quarter ended ended December 31, 2012 from net loss of Rs 99.65 crore in the corresponding period previous year.
The net income during the third quarter of this fiscal, however, went up by 14.94 per cent to Rs 182.83 crore from Rs 159.06 crore in the year-ago period.