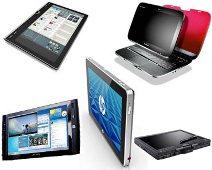 Among his 25-member workforce, Ahmedabad-based Faisal Farooqui also employs four MBA graduates to manage his spices export business.

"I just got five Apple iPads for my managers (the MBA graduates) and one for me to keep an updated account of the export orders," he says, adding he is still learning how to use his tablet PC, though his five young managers have taken to the device like fish to water.

Elsewhere, a Mumbai-based private wealth management firm gave 10 Samsung Galaxy Tabs to its senior managers to conduct presentations (the tablets handle high-definition resolutions and PowerPoint files, making them a lightweight alternative to notebooks and projectors) and for meetings with clients.

The aim is to replace paper products with something more flashy, versatile and reusable.

These are not lone examples. While the trend of tablet PCs is typically seen as a consumer-driven one, small-and medium-sized businesses in India are also adopting the tablet PC platform.

While a number of private wealth management firms have already embraced tablet PCs, others are expected to adopt them soon.

One firm is using the devices to replace laptops for its client advisors.

Tasks like photocopying, which were once time-consuming and clunky, are now carried out using tools such as the tablet's on-board camera.

In the healthcare industry, too, the tablet PC is quickly becoming a streamlining tool.

Late last year, Research in Motion displayed a medical app for the PlayBook called eUnity.

The app is a medical image viewer, which securely transmits X-Ray scans, MRIs and other data to a doctor's tablet PC, paving the way for easier and more organised viewing.

A leading Delhi-based private hospital chain is said to be trying out the devices for its staff.

The enterprise mobility business is picking up in 2011. Powerful smartphones have become the norm and feature-packed tablet PCs such as the Apple iPad, the Android-based
Samsung Galaxy Tab and RIM's PlayBook are set to fight their way in to the corporate market.
According to Springboard Research estimates, India's mobile subscriber base would rise to 1.2 billion by 2015, while the enterprise mobile workforce would grow to 205 million.
The latest entrant in the tablet PC market is RIM's PlayBook.
While BlackBerry has been a popular choice among chief information officers for the security it provides, the PlayBook has been built on the QNX microkernel architecture, one of the most reliable, secure and robust operating system architectures in the world.
"It's the same reliability that powers millions of trains, planes, automobiles, medical systems and other mission critical systems," says Sunil Lalvani, director (India), enterprise sales, RIM.
Deloitte Consulting says smartphones, tablet PCs and non-PC netbooks would account for more than 50 per cent of all enterprise computing device sales this year.
The emergence of tablet PCs in 2010 introduced an entirely new dynamic for enterprise mobility management, according to Deloitte report.
"Since Apple released the iPad in April, businesses have consistently found new areas in which they can benefit from using a tablet.
"This year, the technology will become even more common, as Deloitte predicts businesses will account for more than 25 per cent of all tablet purchases," adds the report.
According to Cyber Media Research estimates, although 100,000 tablet PCs (0.1 per cent of the mobile market) would be sold in India this year, they won't become mass market products.
The smart mobile device penetration rate among mobile workers, according to Springboard research, is expected to increase from 26 per cent in 2011 to nearly 65 per cent in 2015.
This means nearly two-thirds of India's mobile workforce would own smart mobile devices such as a smartphones or tablet PCs.