In a bid to check discrepancies in the process of attendance and wage payment to NREGA beneficiaries using manual job cards, bio-metric cards are being introduced in Bihar under e-shakti project.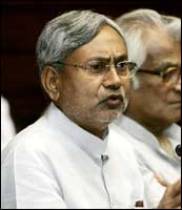 Smaarftech Technologies Pvt Ltd, a subsidiary of Glodyne Technoserve ltd, started distribution of the smart cards - e-shakti - in remote villages in Bihar, company Director B K Mishra said.
Mishra added that the distribution of the cards started from Bhusaula under Danapur block in Patna district, besides a gram panchayat in Phulwarisharif block of Patna district on May 7, 2010.
For the next few days, e-shakti cards will be distributed in lots in Phulwarisharif block and take a period of around one month to cover the entire block.
It would thereafter be gradually distributed in the entire Patna district, meeting a figure of 13 and half lakh cards.
The e-shakti project's data collection exercise would cover districts which included Patna, Vaishali, Muzaffarpur and Nalanda and others.
The registration process for these cards is cost-free and any adult can get himself enrolled during the village-wise registration/data collection exercise carried out by Smaarftech official, he said.
The e-shakti would be used by the individual with hand-held machine for authentication, attendance and other transaction using secure biometric technology, Mishra said.
A separate bank account would be opened for each card holder to facilitate wage payment under NREGA-Bihar through e-shakti cards.
"Alongside, branch-less banking services are also being made available to the e-shakti card holders in partnership with the Central Bank of India," he said.
In the first few weeks, the speed of card distribution was kept moderate to carefully monitor the difficulties which the process might face.
Image: Bihar Chief Minister Nitish Kumar