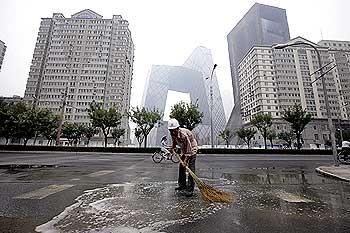 China's demographic problem due to ageing population is showing up as the labour force for first time has decreased by 3.45 million last year, prompting officials to appeal to the new leadership to devise "appropriate and scientific" population policy.
The working-age population in China decreased by 3.45 million to 937.27 million in 2012 from a year earlier, according to data released by China's National Bureau of Statistics (NBS).
"I can't deny that I'm worried about this problem," NBS Director Ma Jiantang said, and called for evolving an "appropriate and scientific" population policy in line with demographic changes.
Cheap labour was one of the major component that fired Chinese economy to become the second largest in the world after the US.
Figures showed a decrease in the working-age population in 2012 which was the first drop in "a considerable period of time," he said.
There had been shifts in the country's demographic and labour supply patterns after over three decades of the family planning policy which focussed on enforcing one child policy, he said.
China's population stood at 1.354 billion at the end of last year, 6.69 million more than that at the end of 2011, according to NBS data.
The country has about 185 million people above the age of 60 (13.7% of the population) at present and is expected to surge to 221 million in 2015 and to about 30 per cent by 2030.
Ma's comments followed assertions by Wang Xia, minister in-charge of the National Population and Family Planning Commission, that China would continue with its controversial one child policy and "unswervingly adhered" to it.
"Not only it would be adhered to but also expanded to keep birth-rate in check", Wang had said.
The family planning policy was introduced around 1980 by the Communist Party to rein in China's surging population by encouraging late marriages and pregnancies, as well as limiting most urban couples to one child and most rural couples to two children.
Earlier, a government think-tank China Development Research Foundation said in its latest study that Chinese population is heading for negative growth and blamed the one child policy for ultra-low fertility rate resulting in related problems of ageing population, gender imbalances, urbanization and an expanding shortage of migrant workers.
The new Chinese leadership headed by Xi Jinping is expected to take a decision after formally taking over power in March this year.