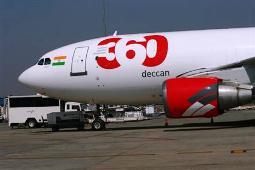 A final effort is on to salvage whatever little is left of Deccan 360, the air & ground cargo service launched by low-cost aviation pioneer G R Gopinath.

Discussions have been initiated to sell the company to a Mumbai-headquartered, highly diversified, multi-billion dollar corporate group which has interests in retail and logistics, among various others.

Since early May, Deccan 360 had stopped its services because the volumes did not pick up to service the lease for the three Airbus 310s.

The aircraft has since been taken back by the lessors.

Deccan 360 now has only two ATRs, which is grounded as the company is not taking any orders.

Close to 1,000 employees have been asked to look-out for jobs and the majority have left the company in the past couple of months.

Deccan 360, launched during May 2009, had raised Rs 115 crore (Rs 1.15 billion) equity investment from Reliance Industries early last year, with a commitment to invest further as the operations expand.

With operations of Deccan 360 not going according to plans, RIL stopped investments and is understood to have expressed willingness to exit or pare down its stake.

According to investment bankers close to RIL, Reliance Industries has since structured a transaction to move its investment in Deccan 360 to RIL's CMD Mukesh Ambani's personal investment portfolio.

Ever since May 2011, Capt Gopinath has been trying in vain to raise resources from various private equity funds and other global players to raise fresh investment through companies which would buyout RIL's stake and invest further to take the operations further.

The search seems to have led him to the large corporate
house and talks are understood to have progressed well.
"It is more or less likely that Mukesh Ambani may have to write down this investment over a period of time if this transaction happens. The Group, in discussions with Capt Gopinath, will be taking over the company at a nominal value and with a commitment to take on the Rs 500-crore (Rs 5-billion) debt, crucial for Capt Gopinath," the bankers told Business Standard.
Capt Gopinath is expected to retain some residual shareholding, if this deal sails through. However, he was not available for comments.
With his cargo venture, Gopinath had aimed to fill the latent gap of the much-needed efficient logistics network for a range of businesses.
While majority of air cargo providers connect India to the world, there are only a few pan-India service providers who can connect various cities and towns in India.
"The business idea of Deccan 360 is an excellent one, but they have not been able to execute it to desired results," the investment banker said.
Since kick-starting the venture, Gopinath is understood to have invested Rs 75 crore (Rs 750 million), RIL another Rs 115 crore and the company had raised a debt of Rs 500 crore (Rs 5 billion).
The fact, that execution has not been up to the mark is pretty obvious in the numbers of Deccan 360.
On a top line of the Rs 180 crore for the financial year 2010-11, the company had reportedly lost as much as Rs 120 crore (Rs 1.2 billion).
"Deccan 360 was not able to get large customers who can bring in revenues of Rs 20-30 crore (Rs 200-300 million) each, annually, and has been relying on 2,000 small businesses, which is not high yielding and not consistent.
Not a single CEO has stayed long enough to execute strategies," the banker said.