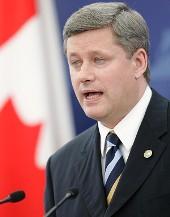 Canadian Prime Minister Stephen Harper will visit India next month to discuss with Prime Minister Manmohan Singh a bilateral free trade agreement and other steps to lower trade barriers, as he prepares to boost his international standing ahead of key summits next year.
Harper is set to visit India next month and is hoping to visit China at the same time, the Vancouver Sun said.
The paper said the trip could pay dividends for Canada's standing on the world stage as it prepares to host key summits in 2010 like the G8, and a G20 leaders summit in Huntsville in July as China and India are influential members of the G20.
"Harper can boost his standing among other leaders by demonstrating a close relationship with Indian Prime Minister Manmohan Singh and Chinese President Hu Jintao," it said.
"The two are both a billion people each. The two are both the booming economies of not just Asia but of the world," the paper quoted a source who has been pushing Harper's advisers to improve ties with the Asian powerhouses.
Besides New Delhi, Harper is also expected to visit Mumbai and might consider visits to the cities of Chennai and Hyderabad where Canadian companies are active.
Harper will head to India after attending the annual summit of the Asia-Pacific Economic Cooperation forum in Singapore to be held on November 14 and 15.
Harper will have meetings with Singh and will likely stay in India until November 18, the paper said quoting Canwest News Service. However, an official announcement is expected only by the end of this week.
Singh and Harper are expected to discuss establishing a Canada-India Free Trade Agreement or smaller steps that would lower trade barriers between the countries. Canada is working to boost trade relationship with India, which now stands at a nominal $2 billion a year.
"The footprint of Canada is very strong in India and it suggests that the government is building a foundation on which to really expand trade, which has been minimal," said an official who advises the PMO on India.
Image: Canadian Prime Minister Stephen Harper