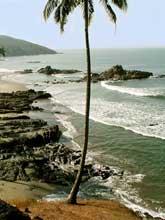 Tourism and Housing & Urban Poverty Alleviation Minister Kumari Selja has welcomed the proposals made in the Union Budget 2010-2011 in tourism and housing & urban poverty alleviation sectors.
She thanked the finance minister for giving the encouragement to these sectors in the Budget. Pranab Mukherjee announced following proposals for tourism and urban development and housing sectors in the Lok Sabha on Friday while presenting the Union Budget:
Tourism:
"To give a boost to investment in the tourism sector which has high employment potential. I propose to extend the benefit of investment linked deduction under the Act to new hotels of two-star category and above anywhere in India."
"I propose to provide a sum of Rs 200 crore as a special golden jubilee package for Goa to preserve the natural resources of the State by restoring Goa's beaches which are prone to erosion, and increasing its green cover through sustainable forestry."
Housing & Urban Poverty Alleviation:
"Swarna Jayanti Shahari Rozgar Yojana" designed to provide employment opportunities in urban areas, has been strengthened with focus on community participation, skill development and self employment support structures."
"For the year 2010-11, I propose to increase the allocation for urban development by more than 75 per cent from Rs 3,060 crore to Rs 5,400 crore. In addition, the allocation for Housing and Urban Poverty Alleviation is also being raised from Rs 850 crore to Rs 1000 crore in 2010-11."
"While presenting the Union Budget for the year 2009-10, I had announced a Scheme of one per cent interest subvention on housing loans up to Rs 10 lakhs where the cost of the house does not exceed Rs 20 lakh."
"I propose to extend this Scheme up to March 31, 2011. Accordingly, I propose to provide a sum of Rs 700 crore for this Scheme for the year 2010-11."
"The Rajiv Awas Yojana (RAY) for slum dwellers and urban poor was announced last year to extend support to States that are willing to provide property rights to slum dwellers."
"This scheme is now ready to take off. I propose to allocate Rs 1270 crore for 2010-11 as compared to Rs 150 crore last year. This marks an increase of over 700 per cent. The government's efforts in the implementation of RAY would be to encourage the States to create a slum free India at the earliest."
"To provide one time interim relief to the housing and real estate sector which was impacted by the global recession, I propose to allow pending projects to be completed within a period of five years instead of four years for claiming a deduction on their profits."
"I also propose to relax the norms for built-up area of shops and other commercial establishments in housing projects to enable basic facilities for their residents."