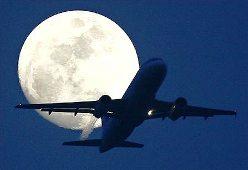 The country's aviation security market is likely to cross Rs 31,000 crore (Rs 310 billion) by 2015 from the current level of over Rs 16,000 crore (Rs 160 billion), says a study by industry body Assocham.

The airport security market, which comprises segments like security, disaster response, identification, manning and cyber security is currently growing at a compounded annual growth rate of about 25 per cent, according to a study titled 'India Homeland Security Market: An Emerging Opportunity'.

"Upgradation of security mechanism at existing airports, replacement of security equipment as well as procurement for planned Greenfield airports together with growth in number of airports, travellers and expansion in cargo traffic would certainly drive the aviation security market in India," Assocham Secretary General D S Rawat said.

Upgradation and integration would be the focus areas for capacity building in airport security while the digital surveillance technology, perimeter control equipment, access control and emergency response are certain core
areas in this regard, he added.
Physical manpower occupies over Rs 1,600 crore of the aviation security market in India annually, where the onus lies on Central Industrial Security Force and private security guards of airport operators.
The biggest opportunity here lies in bullet proof jackets, hand held weapons and light armored vehicles, the report said.
Besides, the perimetric security accounts for Rs 1,350 crore (Rs 13.5 billion) of the aviation security market per year.
Disaster management and control command about Rs 1,100 crore (Rs 11 billion) of this industry while bomb detection and disposal, disaster response vehicles, fire-fighting equipment, IED detectors and jammers are certain areas of opportunities in this regard, it added.
Moreover, identification and access control command about Rs 380 crore (Rs 3.8 billion) of the aviation security market each year.
As demand for air travel continues to grow exponentially across the globe, the need to adopt strict safety measures to counter terrorist threats and other security related issues would drive the global aviation security market which is growing at a CAGR of 20 per cent, the study said.