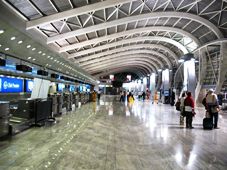 Last week, when the Builders Association of Navi Mumbai organised a property exhibition, they were taken by surprise when 200,000 visitors turned up for the four-day event.
The number was three times more than the 73,000 visitors who had come for the Maharashtra Chamber of Housing Industry's property fair in April.
Their main interest was in areas near Panvel, where the Navi Mumbai International Airport is going to come up.
"On Sunday alone, we had 10,000 visitors from Gujarat and Delhi at our stall, filling up forms so that they could be contacted later," says Santosh Shetty, director, Space India.
The firm markets builders' properties at Panvel. No wonder the prices have almost doubled in areas such as Kamothe in the last two years.
The international airport, however, is still a couple of decades away. The first phase will start in 2015, and it will be fully functional by 2030.
So, does it make sense for an investor to buy such properties?
Property experts caution that if one wishes to invest, he/she should be willing to wait for at least a decade, when the supporting infrastructure will come up.
"If a person wants to invest here, the punt should not be on just the airport, but on the connectivity to the city it will offer. And, it will take years for the infrastructure to be put in place," says Pranay Vakil, chairman, Knight Frank (India).
Infrastructure
Infrastructure is the first big problem. While there is a lot of action on property building, roads and water are still to come in some areas.
The realty hotspots in Panvel and the surrounding area are divided into two regions, depending on the civic body. Areas including Kamothe and Ulva, which fall under the City and Industrial Development Corporation, are seeing development, leading to speculation.
In Panvel, which comes under the Raigad municipal council of Raigad district, brokers are aggressively marketing projects in Vichumbe and Sukhapur villages.
If you were to buy a flat either at Ulva or Kamothe, the rate is Rs 3,500 a sq ft. And, if you want to buy a house in a tower, the price could be Rs 6,000-6,500 a sq ft.
A 100-metre plot is priced at Rs 65-70
lakh, depending on the sector. Although there is a flurry of construction in Kamothe, most developers are yet to start projects at Ulva.
At Vichumbe, prices start at Rs 2,500 a sq ft, and go up to Rs 3,500 in projects that are promising amenities such as swimming pools. Here the access roads to properties are absent.
Brokers say developers are pooling in money to develop roads and have a sanction for water supply to the villages from Maharashtra Industrial Development Corporation.
Tenure of holding
Real estate is a long-term play. "One should not expect high returns in the short term (three-five years).
"In the recent past, we have seen prices double in a three-year time, but it was exceptional," says Ambar Maheshwari, head of investment advisory DTZ Property Consultants
.
Even if a person gets into areas close to the airport, he/she should be prepared to hold the property for a long term (seven years and above).
Out and out investment
Investing would reap rich returns, but only after a long time, and that too, through capital appreciation. During the interim, one may not be able to earn even a good rental income.
"The rental market for these upcoming Navi Mumbai areas would only open up when the airport starts," says Akshaya Kumar, founder and CEO, Parklane Property Advisors.
Vakil says investment in these areas would also depend on the buyer's age.
"If you are in 20s/30s, you can look at investing in the area. Even if development takes time, you can still afford to hold on to the property. It would not be the case for someone who is over 50," Vakil adds.
If you are looking for an immediate rental income, there are areas such as Mulund, Thane and Vikhroli, which already have the basic infrastructure, and are priced at Rs 6,000 a sq foot.
These areas could also give more capital appreciation to an investor than areas around Navi Mumbai.