Lessons I learnt as an entrepreneur
Prasanna D Zore
Tenzin Thargay, Poonam Kanwal and Vivek Jha, three entrepreneurs who run a quick service restaurant that goes by the name of Rocket Sandwich did not have much in common. However, they all had the passion to start up on their own.
While Tenzin, a BTech in computer science and IIM Bangalore grad knew Poonam, a hotel management and catering student, through a common acquaintance in Mumbai, Vivek, an electrical and computer science engineer from Purdue University, met by chance at a summit organised by The Indus Entrepreneurs in Mumbai.
While nothing much happened at this meet, they met up a couple of times after event. Thus began their entrepreneurial journey in the food business, which gradually, evolved into a quick service restaurant and now goes by the name of Rocket Sandwich.
Though they have only four QSRs in Mumbai, the trio soon plans to ramp up the number to 15 in the next 12 months.
Tenzin Thargay discusses how they metamorphosed from selling meals at parties into QSR business, the challenges they faced, how they overcame these challenges and lessons they learnt as a start-up.
What were the other ideas you must have had before you singled out on this particular business model?
There was never a single idea to start with. We started as a makemytrip for institutional kitchens across Mumbai. The idea was to sell their spare capacities, since kitchens like TajSats, Birdy's, Oberoi's did not have a business to consumer channel and we helped them sell their products in the retail market. We sold close to 18,000 meals in 7-8 months time. We moved out of this model because of high investment requirement in setting up a logistics and supply chain management solution and longer gestation period for breakeven, since we had raised funds in a friends and family round only.
Later, we shifted to a party execution model, where we organised parties for groups of 25 to 80 people at offices, homes, party halls etc. We worked with the same institutional kitchens but also empanelled chefs, bartenders, DJs, crockery-cutlery providers etc and executed parties. We organised 700+ parties in 7 to 8 months time and also did a 2,500 people party. We moved out of this model because to scale it across multiple cities again requires huge cash.
We have now moved into QSR space and have four running outlets in Mumbai. We will open 15 plus retail outlets and 20 plus corporate kiosks in the next 12 months. This move came because we understood the retail market having sold hundreds of different menus, working from a large kitchen, handling complex logistics.
Challenges you faced as entrepreneurs...
Funds: Raising funds for the project was and is a challenge. This is because the idea is to scale (our business) at a particular rate and not turn into a profitable cottage industry player.
People: Getting the right people into the team is also a big challenge. We believe that the core team should have complementary skills and the sum of whole should be larger than the addition of individual parts.
Finding core USP: There is no fixed and static idea which remains a constant. We have pivoted the core idea twice and for the right reasons. The idea was launched as a makemytrip of institutional kitchens helping them sell their spare inventory and we sold close to 18,000 individual meals, which after eight months of execution was transformed into a party planner and execution platform for entire Mumbai where we organised 700 plus parties, which finally is now working as a QSR chain after receiving the second round of funding and now we have a roadmap to open 15 outlets in another 12 months time.
How did you overcome these challenges?
Funds: After meeting more than 50 high networth individuals (HNIs) and angel funds the funding during the bootstrap stage was raised by investing our own money and that of FandF (friends and family). We realised that there is no strategy for fund raising; one has to start the core operations and show traction in the model. Round two funding was also closed with an angel fund with whom we had four meetings before and after the launch of our company.
People: Having a start-up mindset is the most important factor, which means an ability to move ahead without any expectation. The team also has to complement the core competencies of other members. The team also keeps evolving; you meet people in different forum and events, where the idea is to keep an open mindset. In a best-case scenario college friends may come together, but today the Indian economy is a vibrant ecosystem where many people want to join the entrepreneurs, which can be used for forming teams.
Core USP: The idea of a core USP is a myth, where it is understood in a static fashion. We have realised that the focus should be on not wasting time and money under any circumstances. What this means is with the focus on creating benefits for the end-consumer the model has to constantly evolve and the core USP as envisaged earlier will also keep undergoing change.
How do you plan to build scale?
We plan to keep augmenting the core competency skill set of the core team. This means not only that the existing team should be multi-skilled, but also get new team members in the core team who will play a critical role by filling in the gaps. This could mean people from marketing/ finance/ operations/ technology etc.
We also plan to create a replicable modular approach. This means that the core idea should be easily replicable, in terms of the infrastructure and processes. We shifted from the party planning model to QSR only because we did not see growth beyond Rs 30/ 40 crore in revenue in next 3 to 5 years at a national level, whereas we expect the QSR model to grow to a few multiples of Rs 100 crore in revenue in next 3 to 5 years.
This is possible because the core unit is a modular unit, a new retail outlet can be launched in one month's time and it can tap products from a central kitchen built for scale. The marketing/ sales techniques honed over the past few months can be used across a typical retail format outlet and the central CRM (customer relationship management) module helps in tracking metrics of performance.
Your revenue model and revenue target in 5 years…
Our revenue model is two fold: (a) Retail format store where we earn on our products as a markup on costs, where a typical customer is from the residences and offices in vicinity (b) Corporate kiosk where the earnings on our products will also be a markup on costs, but the customers are exclusively from a corporate office complex.
5 years from now rocketsandwich.in will have outlets in at least five cities with more than 50 outlets in each city. Each outlet should do an average business of Rs 5-7 lakh per month.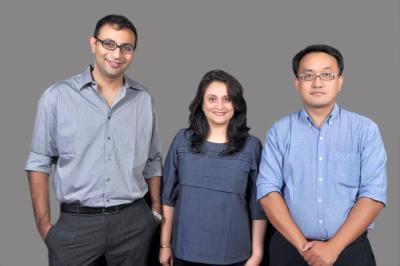 Lessons learnt as entrepreneurs...
Lean structure increases manoeuvrability: The idea is to not have any baggage which makes it difficult to manoeuvre; this change could be in terms of people/ core product/ business model etc. The need of the hour is to immediately adapt and keep growing.
Raise funds when you can, not when you need: Raising funds can't be timed perfectly. Our learning is that raise funds when you can and not when you need. Since otherwise the valuations of the model gets compromised.
Build overcapacities to prevent failures: Here overcapacity means in terms of core-team/ infrastructure/ redundancies in processes/ marketing etc. This means that one can't have an exact situation and having redundancies in the system means that the core model will not collapse because of any individual event. This though definitely doesn't mean splurging money, but rather optimal use of resources.
Your advice to young Indian entrepreneurs…
Stop thinking and start acting. As the adage goes focus should be to implement the thought process and not get entangled in the web of analysis-paralysis.
Stay hungry stay foolish: As Steve Jobs said, to grow as an entrepreneur the idea is to keep on trying and learn from mistakes. The hunger to grow should never wane.
Finally, what is so unique about the sandwiches you make? How do you differentiate yourself from competition?
Rocket Sandwich is an attempt to provide a healthy, tasty, and contemporary yet Indian, easy-to-eat alternative to people on move. We have unique Indian taste-inspired fillings for the desi palate with use of schezwan, chhole, rajma, chicken, sausages and mayo etc to create one of a kind filling.
Interestingly, our sandwiches can be eaten with one hand as they are virtually spill-proof and the packaging keeps the product non-soggy and transforms into a plate for consumer convenience.
Our sandwiches do not lose shape or taste even after an hour ensuring that you always get an awesome sandwich wherever you are.
This product is easily available to customers on their route, or through simpler ordering methods like WhatsApp, single number calling, website ordering etc.
Image: From left: Vivek Jha, Poonam Kanwal and Tenzin Thargay
Image:
Main picture used for representational purpose only
Photographs:
Yuriko Nakao/Reuters