Jammu and Kashmir MLA Ramesh Arora wants momos banned, but are they really unhygienic and harmful?
Veer Arjun Singh finds out.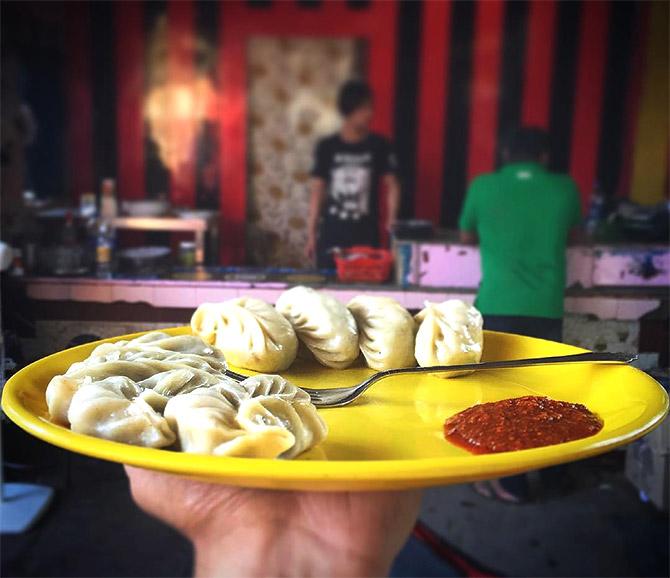 IMAGE: Veg/chicken steam momos. Photograph: Kind courtesy Himanshu Sehgal/Instagram
A stout 27 year old, Jimmy loves wearing his red, body-hugging T-shirt.
Flexing his biceps as he ties back his shoulder-length hair, Jimmy explains how bright colours help him edge out competitors in his line of work.
"Too many of us are selling the same product. Customers spot my bright clothes from afar and come straight to my stall," he says.
From 4 pm to 10 pm, seven days a week, Jimmy sells steamed chicken-, vegetable- and paneer-filled dumplings at his roadside stall near the busy ITO Metro station in central Delhi.
He had moved to the city from a village in West Bengal near the Bhutan border a decade ago.
But Jimmy's enthusiasm dips suddenly when the conversation comes to a question about his recipe: Do you add Ajinomoto? "I do... a little, among other condiments," Jimmy stutters.
He then quickly turns defensive and jabbers a list of Asian dishes that also use the salt, sounding as if he learned the names by rote only last night.
The irony of his defence lies in the fact that Jimmy, much like his competitors, does not know if Ajinomoto, known to enhance the flavour in foods, is good or bad.
The rest of the world has not arrived at a conclusion either, except for one man.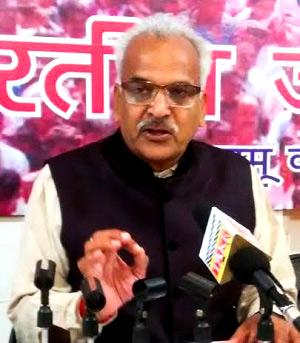 Jammu and Kashmir legislator Ramesh Arora (left) of the Bharatiya Janata Party has made it his mission to ban momos.
He says monosodium glutamate, or MSG -- the compound that has become synonymous with Ajinomoto, a Japanese brand -- is 'the root-cause of many life-threatening diseases including stomach cancer' and is even 'more dangerous than psychotropic drugs and alcohol'.
After Maggi a couple of years ago, momos are feared to be the next casualty in the war against MSG.
But, says chef Sanjeev Kapoor, common sentiment is not always the truth.
"MSG suffers from a perception problem. People should worry about their daily sodium intake instead," he adds.
Ajinomoto does not figure in Kapoor's cooking -- purely because of the negative perception around it, he says -- but the food additive is a staple ingredient of pan-Asian dishes around the world.
"MSG occurs naturally in foods such as vegetables, milk and cheese and it is also artificially produced," says Shikha Sharma, a Delhi-based nutritionist for over 17 years.
"Some people have complained of headaches, dizziness and palpitations, among other symptoms, after consuming food with MSG, but no pattern could be proved scientifically."
Tanu Arora, head of the department of clinical nutrition at Aakash Heathcare, says the only known effect of MSG is that it increases cravings that make people consume more calories.
The US Food & Drug Administration, too, says that MSG is 'generally regarded as safe for use'.
India's Food Security & Standards Authority says products that use MSG should say so on their labels so that people can make an informed choice.
Even after years of hue and cry, MSG is banned only in baby products in India.
Unmoved by these arguments and undaunted by the jokes his remarks have triggered on Twitter, Arora has appealed to the Jammu & Kashmir health minister to ban momos.
He says his campaign against 'Chinese street food' has cut down the consumption of momos by 30 per cent in his area.
While his opinion about MSG might be erroneous, Arora's concern about the quality of the street food does not seem misplaced.
Delhi's many busy market areas, where one can spot at least one street-food hawker selling the Tibetan dish every 50 odd metres, are proof of this.
A typical momo stall -- a table, a stove, a steamer, storage utensils and the fiery chilli-garlic 'red chutney' -- might appear cleaner than many other Indian street foods.
"Bright red attracts consumers, but it's not just the chilli that irritates the stomach lining, increases acid secretion and can cause ulcers. Equally worrying is adulteration of unbranded spices with heavy metals and colouring agents," says Dr Philip Abraham, gastroenterologist, P D Hinduja Hospital, Mumbai.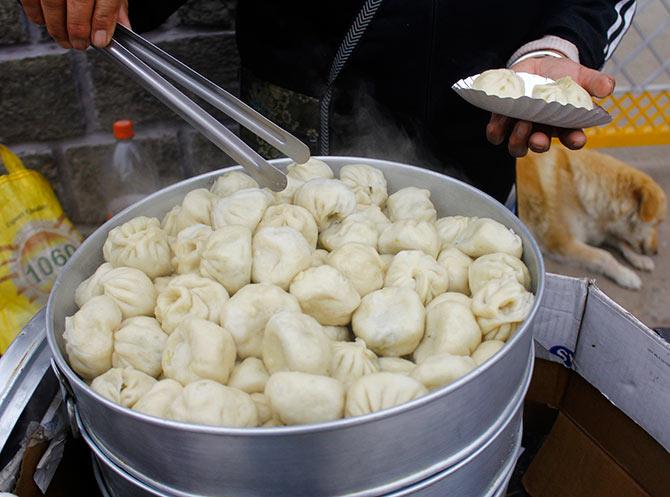 IMAGE: A momo vendor in McLeodganj. Photograph: Hitesh Harisinghani/Rediff.com
And what about the way the dumplings are made?
The search for an answer leads us to an urban village in Chirag Delhi.
In recent years, it has come to be known as the 'momo village' for the sheer size of the population engaged in the business that has settled down here.
One of the commonly used entry points to the village for people on foot and two-wheelers is a large steel gate that opens into a dumpster on both sides.
Further ahead, a narrow steel bridge over an open sewage leads to a cluster of conjoined buildings.
The village is another kilometre into a labyrinth of dingy lanes.
'One room with kitchen available on rent' read several posters on walls of congested houses in narrow, partially dug-open lanes that are infested with rats and mosquitoes in equal proportions.
"Many people from the Northeast (and Nepal and West Bengal) have moved here in the last 15 years," says Manoj Kumar.
The departmental store-owner recalls renting out a floor in his building to a couple from Darjeeling 15 years ago. "They were hygienic and used to sell momos in Sheikh Sarai (New Delhi)."
"But later, I saw two men preparing the dumplings in a neighbourhood house eight years ago. Never ate them again," he says, shaking his head.
Kumar details how the men would use unfiltered water to knead the dough with dirty hands, dump the ingredients on the floor and then wrap the vegetable and meat fillings.
"Many buy fresh vegetables and ration, but some of them get meat delivered very early in the morning, which is mostly keema (leftovers) from the previous night," claims another local.
He says many landlords are unwilling to rent their houses -- which go for Rs 3,000 for a 1BHK -- to people engaged in the business because of their unhygienic practices.
Multiple people, shopping to prepare the day's stock of momos in the village market, refused entry into their houses where they would make the dumplings, and requested not to be quoted or photographed.
The preparations start around 9 in the morning and, by 3 pm, they start loading plastic containers and large bags into autorickhaws and leave for their respective stalls around the city.
On good days, a vendor makes a profit of around Rs 1,000.
Back in South Delhi, momo vendors -- most of whom live in Chirag Delhi -- reluctantly agree to the use of MSG.
Amit, who is only known by his alias, however, insists that he doesn't use the "Chinese powder".
Operating out of Greater Kailash 1, he wraps up his sale in about three hours every day.
He has moved out of Chirag Delhi to Sadiq Nagar and now has multiple stalls around the city.
"One has to go through the struggle for a few years to settle in Delhi. The focus on quality comes later," he says.
MSG: The usual suspect
Glutamate was isolated from the Kombu seaweed in 1908 by a Japanese biochemist Kikunae Ikeda, who dubbed it as umami -- which means 'deliciousness' (in Japanese) -- as the fifth taste (beyond sweet, sour, bitter and salty).
He began marketing a stable, crystallised form of the flavour enhancer as a table condiment called Ajinomoto -- inducting Ikeda among Japan's 10 greatest inventors.
Long after his death, the names MSG and Ajinomoto are synonymous and the food additive is now sold in over 26 countries.
But a doubt seeded by Ho Man Kwok, in his 1968 article about the side effects of MSG (tingling, numbness and palpitations), is still infamously recognised as 'Chinese restaurant syndrome'.
Fifty years on, despite a plethora of research, the theory has failed to find a scientific backbone.
Glutamate also occurs naturally in tomato, parmesan cheese and even human breast milk.
A discovery a century ago, Ajinomoto today is kept tucked away in kitchens and disguised in labels as glutavene, glutacyl, autolysed yeast extract and gourmet power among other names, to battle an infamous public perception.
Ramesh Arora's photograph: Kind courtesy jkbjp.in