India [ Images ] skipper Mahendra Singh Dhoni [ Images ] did not seem surprised at the conviction of Pakistani cricketers Salman Butt [ Images ] and Mohammed Asif on charges of spot-fixing, saying "if you do worse, then be ready for worse to happen to you." 
Butt and Asif were today found guilty of spot-fixing charges in a London [ Images ] court. The two cricketers are out on bail till the quantum of their punishment is announced.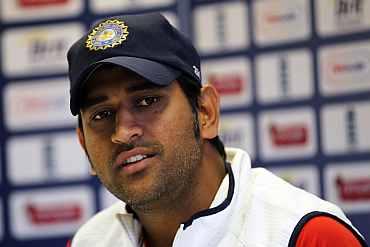 "It's (scam) the worst thing you can do while representing your country. If you do worse, then be ready for worse to happen to you," Dhoni said at an Army function, where he was bestowed with the honorary rank of Lt Colonel, in New Delhi [ Images ] on Tuesday.
Meanwhile, former India cricketer Arun Lal said the verdict is an opportunity to cleanse the game. 
"This is the time to cleanse the game. It's fantastic that this was a criminal case. People have to be made accountable. It is an opportunity for the ICC [ Images ], Pakistan Cricket Board, Indian Cricket Board and to all others to put an end to this menace. It's the game which suffers in the end," Arun said.
Munda congratulates Dhoni
Meanwhile, Jharkhand Chief Minister Arjun Munda has congratulated Dhoni on being conferred upon the rank of Lieutenant Colonel in the Territorial Army by Army Chief General V K Singh in Delhi. 
"I congratulate Dhoni and wish him more laurels in future. Such rewards will inspire other budding sportspersons to excel in their respective disciplines," Munda said in his reaction after Dhoni added another feather to his distinguished cricketing career. 
The chief minister congratulated Olympic [ Images ] gold medalist Abhinav Bindra [ Images ], who was also conferred the same rank by the Army Chief. Jharkhand government had earlier recommended to the defence department urging the ministry to consider awarding the honourary rank to Dhoni.