West Indies batting legend Brian Lara played and interacted with young Delhi cricketers in a cricket clinic at the Ferozshah Kotla stadium in Delhi on Tuesday.
After a press conference that followed the clinic, jointly-organized by the Delhi and District Cricket Association and Trinidad and Tobago tourism ministry, Sahim Salim got a chance to ask the batting legend a few questions.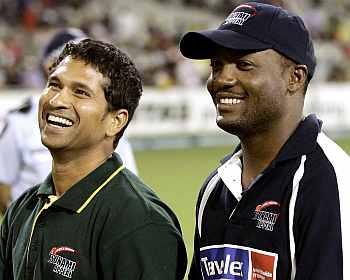 Are you disappointed that you were not picked in the IPL auction?
I am not overly disappointed. I mean, I can understand the reservations that the owners and managers can have. But I believe that they missed the broader picture. Along with my ability to play the game, I think, I also can offer some knowledge. I would really like to come to India sometime soon and make a difference. Almost 75 per cent of each IPL team is young Indian players. I am not disappointed at not being included, but, at 41 years of age, I can understand the situation.
As a player, what were you looking to contribute to the team that picked you?
I did not just want to go there and compete. I wanted to be a part of a successful unit. Being a part of such a unit meant contributions in the dressing rooms -- in meetings and in one-on-on with players. I want to be able to do that, if not this year, then, maybe, next.
What I like about the IPL is its private ownership. I believe that cricket can rival sports like football if only leagues such as the IPL or first class cricket get almost on par with international cricket.
Sachin Tendulkar is going to play yet another World Cup. Will his presence in the team help India lift the Cup?
It really does not matter. The entire world appreciates Sachin playing cricket. He has been playing cricket since he was 16 and he is still there. I don't think the records that he is setting will be surpassed. Because, with the advent of 20-20 cricket, lesser Test matches and one-day international matches are being played. I believe that Sachin is a genius in our times and an outstanding player. Winning the World Cup or not, the respect Sachin commands is enormous.
Do you think India are favorites to win the World Cup?
With the World Cup being in Asia, I believe that India definitely are favourites. But, having said that, with the World Cup being here [in the subcontinent], there comes a lot of home pressure. It is not going to be an easy World Cup and India will have to play very well to win.
In the 1996 World Cup, when it was last held in this part of the world, Sri Lanka, which was not a very fancy team, won it.
I believe that one of the Asian teams definitely has the advantage. But India, being the number one in Test cricket, will be a tough team to beat.
What are the chances of West Indies in the series? At one point in time, they were invincible.
West Indies were on top of their game in the 70s and 80s, till the mid-90s. We were an invincible team for quite some time. I believe that sports is a cycle and someone had to come and topple us off. I never expected Australia to be fourth or fifth in the world rankings today. I never thought they would be so comprehensively beaten by England. Just goes to show that every country will get their own time. I believe that the time of invincibility -- it was the West Indies earlier and then it was Australia -- is over.
Now that you are not directly involved in cricket, how is your life, in general?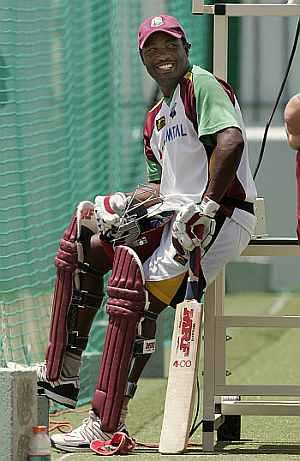 I am still traveling a lot; more in the capacity as an ambassador in sports and tourism. I am working with Zimbabwe. I am very active and enjoying life, spending a little more time in Trinidad and Tobago, which is good. You know, the shine of the ball has not come off yet and I am still enjoying and playing a little more golf these days.
Yes, I am going to miss the IPL, but I am still very, very busy.
Given their current form, how do you rate Zimbabwe's chances in the World Cup, with you being their batting consultant?
I just started working with them and I believe that my job is to get the team batting a lot better. They are not going to be one of the fancier teams in the World Cup, but they can spring some surprises, which is important for them.
Another thing that is important for them is to reach the second stage of the tournament, and, maybe, even third. They have very good players, but, as a team, they are a little low on self-belief.
I want try and build that self-confidence and team spirit. If not the World Cup -- you know, they re-entering world Test cricket in May -- against Bangladesh; and they are playing against West Indies too. I don't know who I will be supporting in that, but I would love to see Zimbabwe do well.
You played with some young Delhi cricketers. What do you think of them and the facilities here [at the Ferozshah Kotla]
Looking at the young crowd here, I have to say there are quite a few good players in Delhi. One thing I must say is that the batting surfaces in the practice facilities could be a little more enterprising for the batsmen. Obviously, it is very easy to bat on surfaces where the ball is not bouncing much. If you can get pitches that are conducive to pace, they can get accustomed to fast bowling.
Your thoughts on [former West Indies player and selector] Joey Carew, who passed away recently.
Joey Carew was more than a mentor to me; he was more like a dad to me. In my early days I lived in a village. It was difficult to get a taxi or a lift to my school, and this man opened his doors to me through his sons, Michael and David. I spent a lot of my teenage life in the Carew residence, learning about the game. He was a great person and I have suffered a great loss.
Before my dad passed away, he asked Carew to take care of me. He has been a great influence in my life and will remain with me forever.