India's first cricket World Cup-winning captain Kapil Dev is back making headlines. This time, even he realises, it for the right reasons. He has just got back into the BCCI fold. Now he is also keen on looking at investing in an IPL team, a format of the sport he believes has a big future thanks to a perfect mix of sport and entertainment. Despite the many cricket controversies, Kapil believes the game is in its new avatar is looking great and is more inclusive as audiences widen. As he tees off on the golf course, Kapil reveals that the ICL- BCCI situation was not the ideal controversy to get stuck in.
Kapil Dev speaks to Shaili Chopra, ETNOW's Senior Editor & Author of the golf-business book Birdies In Business.
From cricket pitches to the greens, you have been in love with golf? A real second innings?
If a sportsman can continue to keep up with his career with a new sport, there's nothing like that. Golf gave me a big opportunity to be with myself. A friend of mine took me to a golf club and that's it. After a tee off, you are with your three partners and a few caddies, it gives you a lot of time to be within yourself. It was a beautiful feeling to learn the game where you are using your energy and your mind. All you do is spend time controlling the ball. As a cricketer, I had been a team player because that's how cricket is. But golf taught me a lot about myself.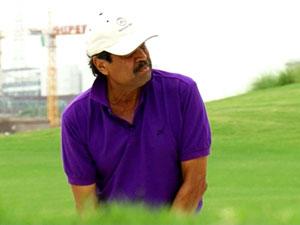 How did you react to the comeback to the BCCI?
It's good to be back to the BCCI. It's already the parent body. ICL was trying to give a chance to youngsters and was trying to work out a way by which young boys come out and play with senior players. It was a great idea and it was an absolutely delightful experience. Unfortunately the Cricket Board felt differently. Not that I have any regrets but it's good to not have any misunderstanding with the Cricket Board. I was very relieved. BCCI has done a great job and one organisation that has shown to world that they can handle and organise things.
What do you expect IPL to do next? Will it keep up the momentum?
A. Its success has forced us to keep expecting more and more each time. Cricket board has to now think each time how to make it more exciting and entertaining. Alot of what is happening to Indian cricket, there is a lot of credit that should go to twenty twenty. Although all kinds of cricket has its own place and time, I think the new formats have helped widen the audience for the game. As a cricketer, I clearly enjoy the game part of it. That's what matters most to me. I think 20-20 has been a big success and it's no longer about just the sport but sport and entertainment. People want to come back in the evening and spend time watching a sport with the entire family.
Would you have enjoyed playing an IPL if it happened in 1980s, or 1960s?
Of course I would have loved it. Perhaps players from the 1960s too would have enjoyed the same. Our cricketers have done so well in the last ten years with new formats. Had we not won the 1983 World Cup, the One-dayers may have taken longer to grow and bring a revolution. So there is a time for everything and many formats are interesting for all. Similarly had we not won the T20 World Cup, IPL success and progress may have taken still longer.
There are far too many controversies and a fair amount of fixing. Is the big money the main reason?
Of course when cricket grows, negativity steps in. We need to take responsibility and teach the next generation. Sometimes there are some people who try and lure people and ride on cricketers' wrong side if any. When the money gets so big, it can happen in any field. We senior cricketers have to try and continue to tell the next generation to have a strong mind and a willpower to avoid anything that can lure them away from the lure of money.
Why is the lure so addictive today?
It's the money, of course. Not just in cricket, look at films or even other international sport. Our country's growth has been rapid and many want to be rich. Many sports people want a better life and be successful. So unfortunately there are some elements that are working against them and taking them into the negatives.
Today however cricket can be career. Not so in your times.
Thanks to fast economic growth in the country, everyone tries to make a quick buck. This is the first time that sports people have got enough recognition to create a life and career out of their game. They do give motivation to the next generation.
You continue to remain a businessman with Musco Lightening, a unit that lights up stadia and now you are even lighting golf courses?
I believe lighting is the future. This business is growing and India is finally paying attention to the lighting needed in stadia not just for national sport but also in schools. Golf courses are too looking at night golf and improved lighting.
Would you be keen to invest in an IPL team?
If the right offer comes, and I have the money, then why not? If this is a business of the future, then one must look at ownership. I have been looking at some investment options and there is a chance one can start some ownership kind of thing. I keep on looking for potential opportunities.