New Zealand's temperamental batsman Jesse Ryder and medium-pacer Doug Bracewell have been fined an undisclosed amount by the country's cricket board for a late-night drinking binge ahead of the opening Test against India at Auckland.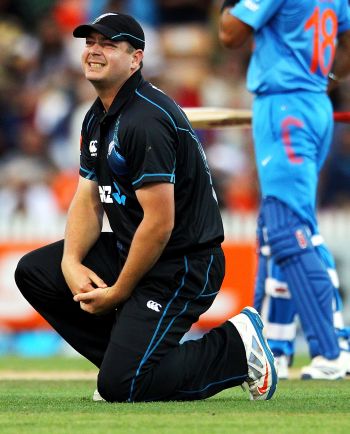 The two cricketers, who had reportedly got into a physical altercation with each other at an Auckland bar during a night out, were dropped from the second Test by coach Mike Hesson on Monday.
Bracewell, who is nursing a broken bone in his foot, has flown back to Napier.
New Zealand Cricket operations boss Lindsay Crocker said the players had accepted the charge of misconduct and were fined an undisclosed amount.
"By far the biggest consequence for the pair will be the damage caused to their relationship with the Black Caps selectors," A New Zealand Cricket statement said.
Crocker said: "The New Zealand selectors place great emphasis on qualities such as personal responsibility, trustworthiness and dependability and will continue to do so with our encouragement.
"All players in contention for the Black Caps need to satisfy the selectors of their commitment to prepare conscientiously for international fixtures," he added.
According to reports, Ryder is unlikely to be considered for the World Twenty20 squad, the announcement of which has been pushed to Sunday after the latest drama.
A CCTV footage released shows an intoxicated Ryder being cajoled into a taxi outside an Auckland bar by team-mate James Neesham at 3am after the tied One-dayer on January 25.
The 29-year-old Ryder, who has a history of alcohol-related misdemeanours, had returned to the New Zealand side on Boxing Day after a self-imposed exile of 22 months to sort out his personal issues.
Ryder and Bracewell did not play the first Test but were on standby if there were any injuries to any of the players.
Image: Jesse Ryder
Photograph: Anthony Au-Yeung/Getty Images