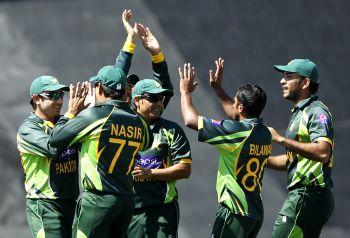 As the ugly face of match-fixing re-surfaced, former Pakistan Test pacer Sarfraz Nawaz demanded an inquiry into the national team's recent defeats against minnows Zimbabwe and South Africa.
Nawaz also demanded that Pakistan's former fast bowler Shoaib Akhtar be investigated by the anti-corruption unit for his recent comments about some unnamed Pakistani players with reference to corruption and fixing.
"I think it is time an independent inquiry commission was formed to probe into the two losses Pakistan suffered in Zimbabwe and why were four key players rested for the last One-day international against South Africa when Pakistan had a great chance of completing a 3-0 clean sweep in the series," Nawaz told reporters in Islamabad.
He said he smelt something fishy in the recent results particularly the one-day match and the Test that Pakistan lost in Zimbabwe.
"Even Shoaib has said recently that he doesn't want to open his mind as he knows which players were involved in corruption and fixing in Pakistan cricket. Either he should come clean or be investigated by an anti-corruption unit," the former pacer said.
"If Shoaib knows something he owes it to Pakistan cricket and its people to spill out the beans," Nawaz said.
He said he had been troubled by some recent rumors and the Board must also investigate some of the matches Pakistan lost recently. He was confident that the Prime Minister would look into cricket matters as he himself was a player and keen follower of the sport.
He pointed out that even in 1999 when Nawaz Sharif was Prime Minister and Pakistan lost in the World Cup final a full inquiry was conducted into match-fixing allegations.
"There is a need to look into things," he said.
Image: Pakistan cricket team
Photograph: Siphiwe Sibeko/Reuters