The owners of the cash-strapped Deccan Chargers sold the Indian Premier League franchise to a real estate company for an undisclosed sum.
Deccan Chronicle Holdings, which paid $107 million for the franchise in 2008, informed the stock exchanges on Friday of their decision to sell the team to Kamla Landmarc, a Mumbai-based real estate company.
The cash-strapped DCHL, meanwhile, failed to meet Friday's deadline to give a Rs 100 crore bank guarantee to the Board of Control for Cricket in India, as directed by the Bombay high court.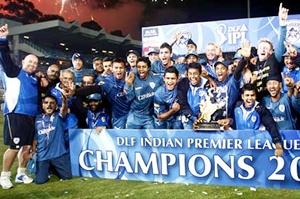 The BCCI is now free to act on its earlier decision to terminate its IPL franchise Deccan Chargers.
- BCCI terminates Deccan Chargers' IPL contract
- Bombay HC tells BCCI, Deccan to go for arbitration
DCHL sought an extension to Friday's deadline until October 15 to submit an "irrevocable and unconditional" bank guarantee, but the high court refused to grant more time.
Justice S J Kathawala declined to give them more time, saying the earlier deadline of October 9 was extended by three days to accommodate them.
Last month, the owners had invited bids for the franchise after being granted approval by the Board Of Control For Cricket In India (BCCI) but rejected the sole offer of nine billion rupees for the 2009 IPL champions.
The BCCI later terminated the franchise for various defaults, including failure to pay overdue player fees, but the owners immediately issued a legal challenge against the expulsion.
Sri Lankan batsman Kumar Sangakkara captained the team in the 2012 edition of the lucrative IPL. He headed a team which also included South Africa paceman Dale Steyn but failed to qualify for the playoffs.
Last year, the BCCI terminated the contract of the Kochi franchise for defaulting on payments while DLF, India's largest real estate firm, terminated the title sponsorship of the league in August ending a five-year association.
Photograph: Mike Hutchings/Reuters