Royal Challengers Bangalore (RCB) on Wednesday announced that they would retain only India's middle-order batsman Virat Kohli for another two years, in the Indian Premier League.
Bangalore, who finished runners-up in 2009, also decided that they would not be retaining the services of India's legendary duo -- Anil Kumble and Rahul Dravid. Robin Uthappa was also a surprise exclusion despite his consistent performances for the Bangalore-based team in the Twenty20 tournament.
England's dashing batsman Kevin Pietersen and Ross Taylor also didn't find favour with the franchise, owned by Vijay Mallya.
Each team is allowed to retain upto four players, out of which three must be Indians.
The first player retained will cost a team $1.8 million, regardless of the amount the player is actually paid. The second player will cost $1.3 million, the third $900,000 and the fourth $500,000.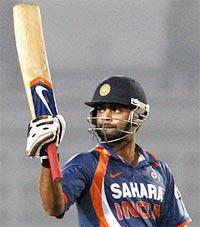 Earlier, Mumbai Indians (MI) informed the IPL that they are retaining four players Sachin Tendulkar, Harbhajan Singh, West Indian Kieron Pollard and Sri Lanka's Lasith Malinga for the next two seasons.
Meanwhile, Rajasthan Royals decided to retain captain Shane Warne and all-rounder Shane Watson, it was reported.
It has also been reported that the Kolkata Knight Riders have retained Chris Gayle, while Delhi Daredevils have so far confirmed that they would only be keeping Virender Sehwag, while making the surprising decision to release Gautam Gambhir.
India captain Mahendra Singh Dhoni, Suresh Raina, Murali Vijay and Albie Morkel are the players retained by champions Chennai Super Kings.
Youngster Kohli has been in good form recently and has also performed well for Bangalore in the previous editions of the IPL.
During the IPL season 3, Kohli scored 307 runs in 16 matches for the Royal Challengers, with a strike rate of 144.81. Later during the Champions League T20 2010, Kohli played 2 successive crucial knocks against Mumbai Indians and Highveld Lions to help the team reach the semi-finals of the tournament. His strike-rate for the tournament was 156.94.
"I am delighted that Virat will be with the Royal Challengers team for the next two years. Besides being one of the most promising young players in India, Virat also has some very significant playing achievements to his credit. He is the first and fastest Indian in history to cross the milestone of scoring 1000 One Day International runs in just 24 innings. His consistency over the last few ODI innings is an indicator of the excellent form that he is in," Sidhartha Mallya, Director, Royal Challengers Sports Pvt. Ltd said.
Between September 2009 and August 2010, Kohli was the eighth most successful ODI cricketer with 968 runs in 26 innings (second-last in terms of innings played in the list). Kohli's 224-run partnership with Gambhir to chase down Sri Lanka's 316 in 2009 is the sixth highest for India in ODIs. It was also the 2nd highest 3rd wicket stance for India. He is only the third Indian player -- after Sachin Tendulkar and Suresh Raina -- to score two ODI centuries before turning 22.