India's tail-enders held their nerves in the tense dying moments to edge out arch-rivals Pakistan by one wicket, in a low-scoring thriller, and cruise into the semi-finals of the under-19 cricket World Cup in Townsville, Australia, on Monday.
After dismissing Pakistan for a paltry 136, India made rough weather of a small target and were reduced to 127 for 9 in 41 overs, after being comfortably placed at 124 for six at one stage.
It was a nerve-wrecking final 25 minutes, as Mumbai lad Harmeet Singh and No. 11 Sandeep Sharma from Punjab held their nerves to eke out a narrow win, with two overs to spare, at the Tony Ireland Stadium.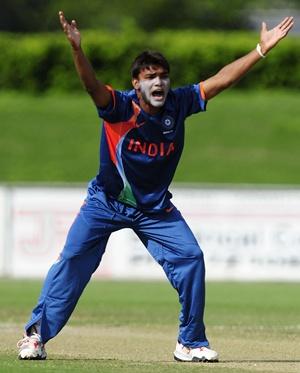 India will now take on New Zealand in their semi-final on August 23.
New Zealand beat the West Indies by three wickets in the other quarter-final.
Credit should also be given to Baba Aparajith (51, 97 balls, 3x4) as his composed batting after initial jitters steadied the ship.
India were tottering at eight for three within the first five overs of their chase, but Aprajith and Vijay Zol (36) added a crucial 66 runs for the fourth wicket to ensure the passage into the last four stage.
This was also sweet revenge for Unmukt Chand and Co, as Pakistan had convincingly beaten India in the previous two meetings of the under-19 edition in 2006 and 2010.
In conditions conducive for both seam and swing bowling, Pakistan left arm pacer Zia-ul-Haq troubled the Indian top-order with his brisk pace as he repeatedly got the ball to angle away from the right-handers.
Earlier, Sandeep (3/24) and Ravikant Singh (3/43) continued their good show in the tournament as they left Pakistan reeling at 98/8 before Ehsan Adil's lusty hitting took Pakistan to 136.
The delivery of the match was bowled by young Bengal pacer Ravikant, who dismissed left-handed Saad Ali. The ball pitched outside off-stump and moved in a shade to clip the off bails, as the gap between bat and pad was minimal.
Scorecard
Pakistan
Sami Aslam c Aparajith b Sandeep Sharma 0
Babar Azam c Chand b Aparajith 50
Imam-ul-Haq c Aparajith b Sandeep Sharma 0
Umar Waheed c Patel b Ravikant Singh 27
Saad Ali b Ravikant Singh 1
Salman Afridi c Patel b Ravikant Singh 0
Mohammad Nawaz c Aparajith b Harmeet Singh 0
Zafar Gohar c Patel b Passi 8
Ehsan Adil c Aparajith b Sandeep Sharma 35
Azizullah c Patel b Nath 2
Zia-ul-Haq not out 0
Extras: (LB-1, W-8, NB-4) 13;
Total: (all out in 45.1 overs) 136.
Fall of wickets: 1-0, 2-0, 3-55, 4-61, 5-61, 6-62, 7-98, 8-98, 9-136
Bowling: Sandeep Sharma 8.1-0-24-3, K Passi 10-1-19-1, Ravikant Singh 10-0-43-3, Harmeet Singh 10-1-20-1, Baba Aparajith 5-0-23-1, U Chand 1 0-6-0, A Nath 1-1-0-1.
India
Prashant Chopra c Salman Afridi b Ehsan Adil 4
Unmukt Chand c Ehsan Adil b Zia-ul-Haq 0
Baba Aparajith c Umar Waheed b Zia-ul-Haq 51
Hanuma Vihari c Saad Ali b Zia-ul-Haq 0
Vijay Zol run out 36
Akshdeep Nath c Salman Afridi b Azizullah 7
Smit Patel c Salman Afridi b Ehsan Adil 14
Harmeet Singh not out 13
Kamal Passi lbw b Azizullah 0
Ravikant Singh b Azizullah 0
Sandeep Sharma not out 2
Extras: (LB-3, W-7) 10;
Total: (9 wickets in 48 overs) 137
Fall of wickets: 1-7, 2-7, 3-8, 4-74, 5-84, 6-120, 7-124, 8-125, 9-127
Bowling: Zia-ul-Haq 10-0-23-3, Ehsan Adil 10-2-25-2, Azizullah 10-3-30-3, Umar Waheed 1-0-6-0, Mohammad Nawaz 7-1-27-0, Zafar Gohar 10-1-23-0.
Photograph: Ian Hitchcock/Getty Images