Comeback man Yuvraj Singh excelled with a maiden five-wicket haul in first class cricket as England's warm-up game against India 'A' ended in a tame draw, at the Brabourne stadium, in Mumbai, on Thursday.
The 30-year-old all-rounder bagged five wickets for 94 runs, improving upon his previous best of three for 25, as India 'A' dismissed the visitors for 426 in their first innings, but not before conceding a 57-run lead.
Yuvraj, who scalped Kevin Pietersen and Ian Bell on Day 2, added the wickets of Samit Patel (104), Matt Prior (51) and James Anderson (19) in the morning session of Day 3 after England resumed at 286 for four.
India 'A' scored 124 for four in 40 overs in their second innings before play was called off ahead of the scheduled close by mutual consent.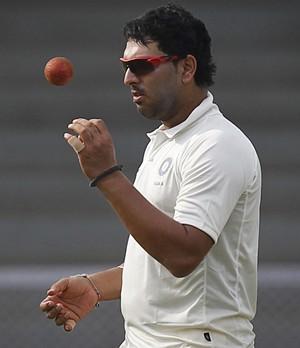 Openers Abhinav Mukund (3) and Murali Vijay (32), Yuvraj (14) and Ajinkya Rahane (54) were the batsmen out in the home side's second essay.
The openers were claimed by Anderson while Tim Bresnan sent back Yuvraj, who returned to top level cricket in this match after undergoing treatment for cancer that put him out of the game for close to a year.
Rahane hit six shots to the fence before Samit Patel had him caught at slip. Captain Suresh Raina (19) and Manoj Tiwary (2) were the unbeaten batsmen.
Raina was lucky to be dropped on naught by Anderson at second slip off Bresnan and his stay at the crease later too was unconvincing against Bresnan's pace.
England take on Mumbai 'A' in their second warm-up game at Navi Mumbai's D Y Patil stadium from November 3-5 before proceeding to Ahmedabad for the third, a four-day tie, against Haryana from November 8-11.
The opening Test of the four-match series against India commences at the Motera Stadium in Ahmedabad from November 15.
The attention in the morning session was grabbed by Yuvraj. He took three wickets on Day 3 to add to the two secured on Wednesday.
Cook's wicket was claimed by Ashok Dinda, who secured 2 for 86 after having accounted for the England skipper's opening partner Nick Compton on Wednesday.
Vinay Kumar sent back Graeme Swann.
Resuming at the overnight 286 for 4, England initially made slow progress against the medium pace duo of Ashok Dinda and Irfan Pathan, who is expected to make the squad for the first Test.
Cook departed when Dinda angled a ball away and the opener poked his bat at and edged to wicketkeeper Wriddhiman Saha after 19 minutes of play. His partnership with Patel yielded 169 runs and came off 321 balls and in 218 minutes, pulling the side from 133 for 4 to beyond 300.
In all, the Essex player faced 269 balls and hit 14 fours.
The arrival of Prior quickened the pace of scoring even as his partner Patel preferred to inch his way to the three-figure mark from 82 overnight.
Prior was also lucky to be dropped by Rahane when on 4 as he slashed Dinda to the gully fielder. Patel reached his first 100 on the tour with a single to square leg in the 11th over, having taken almost 50 minutes to add the 18 runs needed to attain the landmark.
He raced to his 50 in as many balls, and with the help of nine hits to the fence, before his forward prod resulted in an edge to slip fielder Raina off Yuvraj.
Patel was caught by Vijay at cover off a leading edge when trying to flick the left arm slow bowler. He was at the wicket for more than four-and-a-half hours and struck 14 boundaries in 173 balls. The partnership between Patel and Prior was worth 65 runs in 12.1 overs.
Just when lunch was round the corner, Swann was bowled when a ball from Vinay Kumar kept a bit low as England adjourned for lunch at 396 for 8.
In the seventh over after the break, and after the addition of 30 runs, Yuvraj completed his five-wicket haul by having Anderson caught at short leg for 19.
Tim Bresnan remained unbeaten with 33 off 61 balls with four fours and a six. The innings ended with last man, the injured Steven Finn unable to bat.
Mukund and Vijay opened the India A second innings and were separated in the third over when the former got a leading edge to an attempted flick off Anderson and was caught at mid-off.
Scorecard
India A (1st innings): 369
England (1st innings): (overnight 286 for 4)
A Cook c Saha b Dinda 119
N Compton c Saha b Dinda 0
J Trott b Raina 56
K Pietersen c&b Yuvraj 23
I Bell c Raina b Yuvraj 5
S Patel c Vijay b Yuvraj 104
M Prior c Raina b Yuvraj 51
T Bresnan not out 33
G Swann b Vinay Kumar 6
J Anderson c Tiwary b Yuvraj 19
S Finn absent hurt
Extras: (B-1, LB-5, W-2, NB-2) 10
Total: (all out; 119.5 overs) 426
Fall of wickets: 1-2, 2-97, 3-125, 4-133, 5-302, 6-367, 7-368, 8-395, 9-426.
Bowling: Pathan 19-4-61-0, Dinda 23-2-86-2, Yuvraj Singh 26.5-1-94-5, R Vinay Kumar 17-1-48-1, Awana 12-1-60-0, M Tiwary 4-0-23-0, Raina 16-2-43-1, M Vijay 2-0-5-0.
India A (2nd innings):
A Mukund c Bell b Anderson 3
M Vijay c Swann b Anderson 32
A Rahane c Anderson b Patel 54
Yuvraj Singh c Bell b Bresnan 14
S Raina not out 19
M Tiwary not out 2
Total: (For 4 wkst; 20 overs) 124
Fall of wicket: 1-4, 2-69, 3-98, 4-118
Bowling: Anderson 7-1-20-2, Bresnan 10-1-37-1, Patel 16-1-40-1, Swann 5-0-19-0, Pietersen 2-0-8-0.
Photograph: Danish Siddiqui/Reuters