England claimed the number one rank in the ICC Test championship table for the first time in 32 years following a crushing win by an innings and 242 runs over India in the third match at Edgbaston.
Andrew Strauss's side had started the series in third position behind South Africa and trailing top-ranked India by eight ratings points.
To go to the top of table England needed to win the series by a 2-0 margin or better.
England accomplished its mission in great style, winning the first Test at Lord's by 196 runs, and then followed it with a convincing 319 runs victory at Trent Bridge before sealing the series.
ICC Chief Executive Haroon Lorgat complimented the England and Wales Cricket Board (ECB) and the England team.
"On behalf of the ICC, I would like to congratulate Andrew Strauss, Andy Flower and the whole team for becoming the number-one ranked Test team in the world.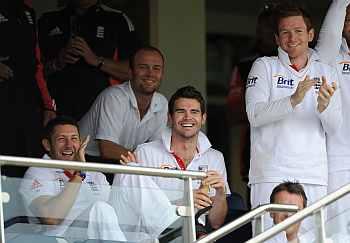 "I know they were determined to be number-one and through careful planning and a series of clinical performances, they have deservedly achieved their goal.
"They were clearly the most consistent side in the world over the past few years as evidenced by their 19 out of 30 Test wins and only four loses," Lorgat said in an ICC statement.
England had last surged to the top of the Test rankings in February 1979 when the then number-one ranked West Indies lost a six-Test series in India by 1-0.
However, the West Indies bounced back five months later to beat England by 1-0 in a five-Test series to reclaim the number-one ranking.
Prior to this and since the 1950s, England had twice achieved number-one rankings -- from 1955 to 1959 and then from 1970 to 1973.
In contrast, India had achieved the number-one ranking on 6 December 2009 after beating Sri Lanka 2-0 in the three-Test series.
While England will be sitting on top of the tree when the Test Championship table will be updated at the end of the series at the conclusion of the fourth and last Test, India's position will depend on how The Oval Test, which starts next Thursday, pans out.
If England wins The Oval Test, it will finish on 125 ratings points while India will drop to third on 117 ratings points.
If India wins or draws the Test, it will stay ahead of South Africa in second position.