Out-of-favour India opener Gautam Gambhir is still hopeful of a comeback and will call time on his career once he feels he can't play international cricket anymore.
With Shikhar Dhawan and Rohit Sharma certainties for the opening slot in ODIs, and Murali Vijay doing reasonably well in Tests, Gambhir's career has hit a roadblock.
"As long as the belief is still there [that] I can play international cricket, I will continue to play. But the moment I feel I can't play international cricket anymore I will retire," Gambhir, who is hoping to make the squad as the third opener for the tour of South Africa, said, at a promotional event, in Delhi, on Thursday.
Gambhir, who has enjoyed so much success with the Indian team, must surely be disheartened to find himself outside the hallowed dressing room. But left-handed opener insists that he doesn't play cricket to make comebacks.
"I always said that I don't play cricket to make comebacks. I play cricket because I enjoy the game. The word comeback is not in my dictionary," said the Delhi captain, who was presented a special edition KTM 390 Duke sports bike.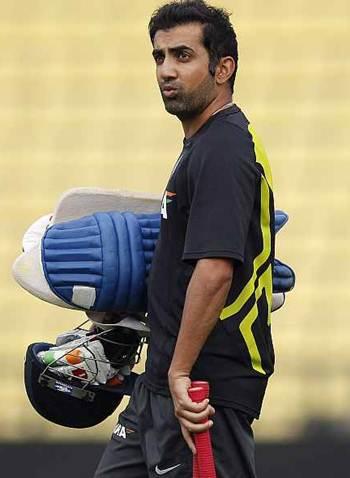 "As a cricketer, I give my best for the team's success. I am a player first who needs to be honest with the team. As a player, the aim should be to go out there and do the job to the best of your ability and win matches for your team," he said.
Asked how hopeful he is of making it to the team for the upcoming South Africa tour going by his present form, Gambhir replied: "It's you [media] who say I am out of form if I don't score runs in one innings.
"But I don't judge myself on every innings. I judge myself on how relaxed I am at the wicket and how much I am enjoying myself there."
He also refrained from talking about any individual players in the current Indian team.
"I never like talking about individuals, because cricket is a team sport. I don't believe in commenting about individuals," he said.
Gambhir also brushed aside the chances of a possible drop down the order, just like his former India and Delhi teammate Virender Sehwag, to regain his lost touch.
"I am an opening batsman and I believe in opening the batting. I think it is the toughest job to open the innings on hostile foreign wickets. I don't belive in going down," he said.
For a cricketer, he said, every tour holds equal significance and South Africa is no different.
He also defended the decision to shift Delhi's first Ranji Trophy home match against Haryana, starting Thursday, to the Roshanara Club ground from the Feroze Shah Kotla, saying it was taken in the best interest of the team.
"I admit, we didn't play well in the first two games, so we have less points. The match was shifted because we wanted to play on a result-oriented wicket. It is always important to play according to your strength and Roshanara pitch is according to our strength," said Gambhir, who is also the captain of Delhi.
The much-anticipated Ashes series between England and Australia starts in Brisbane on Thursday and Gambhir has put his money on the visitors.
"England are a very good, balanced Test side. Australia will have to play out of their skin to win the Ashes," he said.
Image: Gautam Gambhir
Photograph: Dinuka Liyanawatte/Reuters