Former India captain Bishan Singh Bedi paid rich compliments to young seamer Bhuvneshwar Kumar terming him as cricketer of his kind and prayed that the he remains like this for the rest of his career.
- PHOTOS from Day 3 of the Lord's Test
Bedi took to micro-blogging site Twitter to praise Bhuvneshwar, who has been the shining star for India in the series with his all-round show.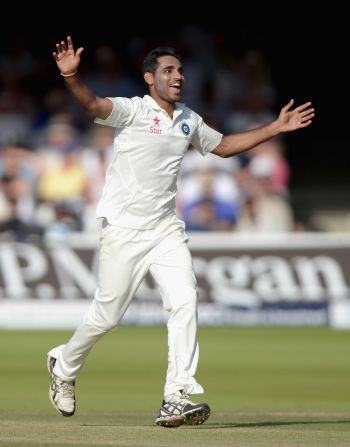 The legendary left-arm spinner wants the Uttar Pradesh boy to stay away from the arclights and retain his trademark shyness.
"Bhuvn my kind of Crktr-plays well w/in his limitations!Hope he cn stay that way & avoid the flash bulbs in his trademark shyness Godbless!!" Bedi tweeted.
Bedi also had a word of caution for the slightly built bowler cautioning him from spending too much time in the gymnasium to beef up his muscles.
"Am v glad w/Bhuvn's Allround growth as Ind Crktr w/humble background.May his tribe grow manifold!Pl avoid over-gyming Son!Simplicity yur +pt," the veteran said.
Bedi urged the Indian team to win the Test match for centurion Ajinkya Rahane and Bhuvneshwar.
"ARahane' ton & Bhuvn's 6fr must go towards team winning!Com'on guys do it fr two outstanding performers!Game beautifully poised fr gr8 end!!," he had tweeted earlier.
Bedi also didn't forget to praise Rahane's concentration level.
"Ajinkya means unconquerable & the man is 'black belt' in Karate which helps lift concentration levels!On both counts Indn Crkt must benefit!"
Image: Bhuvneshwar Kumar
Photograph: Gareth Copley/Getty Images