Gautam Gambhir urged his fans and well-wishers not to "sympathize" with him for being dropped from the Indian Test team as he is ready to "fight" in order to earn his place back in the team.
"No sympathies plz," the diminutive opener wrote on Twitter.
- - I'm still good enough to play for Team India: Harbhajan
The left-hander will be leading India A against the Australians in a three-day first-class tie and the 31-year-old Delhi lad is looking forward to that game.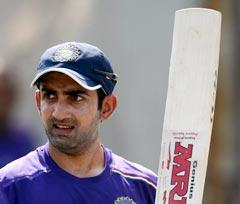 "Lookin forward to training n then d india a game. Chin up guys, its time to show some steel. Come on," he further wrote on his twitter handle @5gautamgambhir.
Gambhir is no stranger to exclusions as he had been in and out of the India team during his formative years in international cricket.
On his own admission this is not the first time that his back is against the wall and he is willing to fight it out with his "chin up."
"Had my bak to d wall in d past 2, dis is no difrent. Will fight," he commented.
He, however, didn't forget to congratulate his Delhi team mate Shikhar Dhawan as well as Murali Vijay for
getting selected for the first two Tests.
"Very hapy 4 vijay n shikhar."
The team man in him was evident as he signed off wishing luck to his team mates.
"Want India to win @ all costs, wid or widou me."