Former Australian fast bowler Geoff Lawson believes legendary Indian batsman Sachin Tendulkar has lost his magnificent aura, and he added the Little Master is well past his best.
"Tendulkar has not made a Test 100 in 33 Tests and nearly two years. His struggles last summer in Australia were well recorded as he chased the facile and artificial 100th international century," Lawson wrote in his column for the Sydney Morning Herald.
"He had lost his dominance and lacked his flow. The extra bounce of Australian pitches were suggested as factors in his failures but on previous tours he had little problem mastering bounce, turn, swing, seam or cyclones," he added.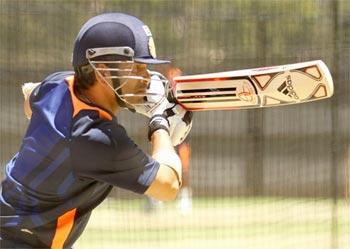 "The Little Master looked bridled for a lush sponsorship pasture 12 months ago; the grass has only grown higher since. But who is going to tap the maker of 15,000 and some Test runs on the shoulder and suggest it is time for tyros, not jaded veterans?" he said.
"I cannot imagine a simple Indian national cricket selector even mentioning the unmentionable, let alone executing the deed.
"He is the most powerful human being on the sub-continent. If anyone can move mountains, Sachin - with a little help from his fans - will do so. If he can drag himself up off the canvas for one last hurrah, India may rally around him," he added.
"Conversely, he has the gravitas to drag the team down if he can't break into a run-scoring canter. He recently made a century for Mumbai in the Irani Trophy and has two tons in four matches.
"So the appetite, unsurprisingly, remains for lengthy occupations in first-class cricket.
"If the Australian fast men can get at him early, the slowing reflexes will be tested. If he has a decent series, it may be a signal to retire somewhere near the top. However you look at him, the decision will be none other than his," added the former Aussie fast bowler.