Former India [ Images ] captain Kapil Dev [ Images ] has said it is up to Sachin Tendulkar [ Images ] to decide when to bid adieu to the game as there is no fixed age for a cricketer to call it a day. 
Talking to the reporters on the sidelines of opening of a gymnasium in Agra [ Images ], Kapil said while Ravi Shastri retired from the sport at the age of 29, Sri Lanka's [ Images ] Sanath Jayasuriya [ Images ] went on to play till the age of 42.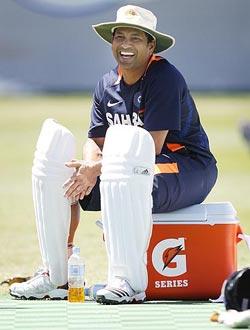 "Sachin has served the country well, even though, he is nearing 40," Kapil said. 
"As long as a player performs well, there are no complaints, it is only when the performance takes a dip questions are being asked," he added. 
Interestingly, the veteran all-rounder had earlier said Sachin should have retired from cricket after India's World Cup victory in April last year. 
On the issue of the alleged rift between Virender Sehwag [ Images ] and skipper Mahendra Singh Dhoni [ Images ], Kapil said, "There was no controversy, it was just a matter of difference of opinion." 
When asked about Dhoni's comment that senior players were slow on the field, Kapil said "their slowness will be overlooked if they perform well with the bat". 
Kapil, meanwhile, said that Twenty20 [ Images ] cricket is tailor-made for the likes of Suresh Raina [ Images ], who can save 20 to 30 runs in the field, which at times compensate for their poor performance with the bat.