Promising to make a difference, former India captain Anil Kumble and Javagal Srinath on Wednesday jumped into fray in the Karnataka State Cricket Association (KSCA) elections to contest for the president and secretary's post respectively.
In what would be a historic change of guard if it happens, Kumble and Srinath would be among the candidates contesting in the elections slated for November 21 in Bangalore.
Brijesh Patel, who was secretary of the association for 12 years, has decided not to contest the elections. He has consented to support the team led by Kumble.
Rahul Dravid, who is expected to be a part of the management committee, and former India seamer Venkatesh Prasad will be part of Kumble's 24-member managing committee.
"I think it is important for cricketers to be part of the association. When I retired two years ago, I was keen to involve myself in cricket administration. I thought this was the best time for me, Javagal Srinath, Rahul Dravid, Venkatesh Prasad, Vijay Bharadwaj, Sujith Somasundaram and all the other cricketers of our generation to get involved," Kumble said.
"We will be able to bear the responsibility and deliver. I can confidently say that we will give our 100 percent and our commitment will be there," he added.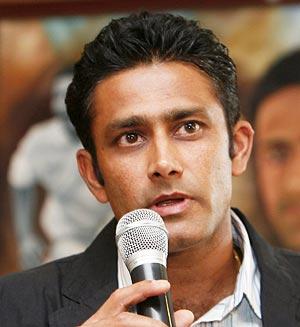 Kumble said he would try and ensure that Karnataka's team becomes numero uno in domestic circuit and more players from the state compete in the international arena.
"Whatever vision we have will ensure that Karnataka cricket grows. Not just the association becoming the No.1, the cricket team should also go on to be No.1 in India and many more Karnataka cricketers represent India," Kumble said.
"Karnataka cricket has been responsible for showcasing world class talent to international cricket. It has played a pivotal role in development of Indian cricket and I am confident it will continue to do so," he added.
Asked if he would have the time for cricket administration as he is also the chairman of the National Cricket Academy, Kumble said, "If I didn't have the time I would not have been addressing the media here. The priorities are important and that is cricket. The NCA and KSCA are in the same campus so that should not really be a cause of concern."
"If any of us didn't have time we wouldn't be sitting here and give commitment that we will be part of the KSCA administrative side. I am really fortunate that I have the opportunity to serve Karnataka cricket. Yes, it's been a big decision but I have taken it for cricket and I am committed to this cause.
"The commitment, passion and the need for Karnataka cricket to grow has made us take this decision. Obviously, there is lot of scope for improvement and with the support of people we can do well. There is lot to be done at the grass root level, structuring the school and club cricket, reaching out to all parts of Karnataka," Kumble added.
Kumble said if elected, his job would be quite challenging.
"It will be a challenging task but I know with the support and commitment from everyone in the team we will be able to make a difference. It might take some time but we are wholeheartedly committed.
"We would like to also ensure that the public who come to want have a wonderful time. And also to ensure that the cricketers here perform well. And we felt this is right time probably to come into KSCA," he said.
Talking about Dravid's involvement, Kumble said: "Rahul is still actively playing cricket. So am I. But he is playing for the Indian team and for you to get into the administrative part you have to be retired. Rahul is president of the Bangalore United Cricket Club and they are part of our list of people. I am hopeful that Rahul will come in and be part of the committee from BUCC. "
Srinath, on the other hand, stressed on the need for more professionalism in KSCA.
"It is important to have a profession to take up this challenging job. Noting comes from this association where you got to give your time here. You have to have a profession for yourself. On the right occasions we have to be here. When you are too young you have to take up this job, so that you can bring in fresh energy and new of set of ideas," he said.