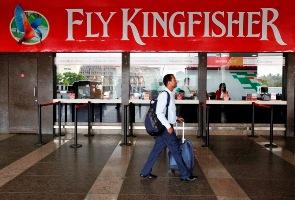 The Union finance ministry has been taking stock with banks on the progress they have made to formally tag grounded Kingfisher Airlines as a wilful defaulter.

The ministry has interacted with officials from various banks.

A consortium led by State Bank of India has appointed consulting firm E&Y for a forensic audit on Kingfisher, to determine any siphoning or diversion of what was borrowed.

This condition must be met for classifying a borrower as a wilful defaulter. The final report is expected soon.

The SBI-led consortium of 17 banks had a total exposure of about Rs 6,500 crore (Rs 65 billion) to the carrier.

After the banks initiated a recovery process last year, the total dues are now about Rs 4,000 crore (Rs 40 billion), according to finance ministry data.

Kolkata-based United Bank of India has served a showcause notice to the airline on why it should not be tagged a wilful defaulter.

The airline has moved court against the UBI notice. The state-run lender has a Rs 400-crore (Rs 4-billion) exposure.

According to Reserve Bank of India norms, a wilful default is when an entity defaults in its payment obligations to lenders even if it has the capacity to pay and doesn't use the funds for which the loan was availed or diverts those.

If the borrower uses short-term working capital funds for long-term purposes not in conformity with the terms of the sanction or deploys the borrowed funds for creation of assets other than those for which the loan was sanctioned, it is construed as diversion or siphoning of funds.

Kingfisher is at the number one spot according to data compiled by the finance ministry on defaulters.

The list also has Winsome Diamond (Rs 3,243 crore or Rs 32.43 billion), Electrotherm India (Rs 2,653 crore or Rs 26.53 billion), Corporate Power (Rs 2,487 crore or Rs 24.87 billion) and Sterling Biotech (Rs 2,031 crore or Rs 20.31 billion).

Separately, government-owned banks have been told to crack the whip on defaulters, and to recover dues from the top 50
as a first step.
The ministry plans to make the rules regarding wilful defaulters more stringent, so that criminal charges can be pressed against such entities.
The ministry has proposed that a promoter or a board member of an entity classified as a wilful defaulter be barred from becoming a director in any other company.
It had also been proposed that passports of such people be impounded, bankers said.
The move to revisit wilful defaults comes at a time when non-performing assets in the banking system have seen a steep rise.
According to RBI data, as of March 31 this year, gross NPAs in the banking system accounted for four per cent of gross advances; net NPAs accounted for 2.2 per cent.
'Probe against KFA, not us' Public sector lender IDBI Bank on Tuesday said the preliminary enquiry initiated by the Central Bureau of Investigations was against the borrower, Kingfisher Airlines Ltd, and not against it.
It has been providing all information and documents sought by the agency and will continue to extend full cooperation to CBI in the enquiry, the lender said in a statement.
THE STORY SO FAR
A consortium led by SBI has appointed consulting firm EY for a forensic audit on Kingfisher
The SBI-led consortium of 17 banks had a total exposure of about Rs 6,500 crore (Rs 65 billion) to the carrier
After the banks initiated a recovery process last year, the total dues are now about Rs 4,000 crore (Rs 40 billion)