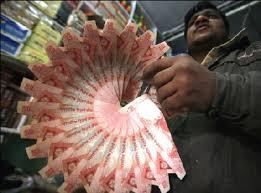 The four-fold rise in bad loans over the past two years, mainly of public sector banks is a matter of concern and steps are being taken to improve the situation, the Economic Survey said.

"During 2012-13, the deteriorating asset quality of the banking sector emerged as a major concern, with gross non-performing assets of banks registering a sharp increase. . .Growth of NPA is a cause for concern," the Survey tabled in Parliament by Finance Minister Arun Jaitley said.

The bad loans of public sector banks were at 4.4 per cent in March 2014 compared with 2.09 per cent in 2008-09, it said, adding, the gross NPA increased by almost four times from March 2010 (Rs 59,972 crore or Rs 599.72 billion) to March 2014 (Rs 2,04,249 crore or Rs 2,042.49 billion).

Increase in NPAs of banks is mainly accounted for by switchover to system-based identification of NPAs by public sector banks, slowdown of economic growth, and aggressive lending by banks in the past, especially during good times, it said.

Overall NPAs or bad loans of the banks, including private sector lenders, increased from 2.36 per cent to 3.90 per cent in March 2014. Increase was sharp in case of infrastructure with NPAs rising from 3.23 per cent to 8.22 per cent, it said.

Infrastructure, iron and steel, textiles, aviation and mining are five main sector that are stressed.

"The next wave of infrastructure financing will require a capable bond market."

Despite, asset quality deteriorating, the survey said the capital positions of Indian banks, including that of public sector, remained strong and above the stipulated minimum.

Highlighting challenges and outlook, the Survey said financial markets continue to suffer from illiquidity and a major objective should be to develop bond-currency derivative nexus to equity market quality levels.

It said most households are as yet cut off from large parts of the financial system and bank-centric notions of financial inclusion have limited value.

The speed of reforms in the financial sector has not kept pace with financial innovation and the next wave of reforms will be through strengthening the laws, organisations, well designed policy decisions, consistency, and transparency for a globalised India, it said.

On financial inclusion, the Survey said it 'is an important priority of the government'.

To extend the reach of banking, PSBs opened 7,840 branches in 2013-14 compared to 4,432 in 2012-13, it added.

Going forward, the draft Indian Financial Code of the Financial Sector Legislative Reforms Commission seeks to address the present weaknesses of the Indian financial system, and meet the requirements of the Indian economy over the coming 30 years.
Please click here for the Complete Coverage of Budget 2014 -15