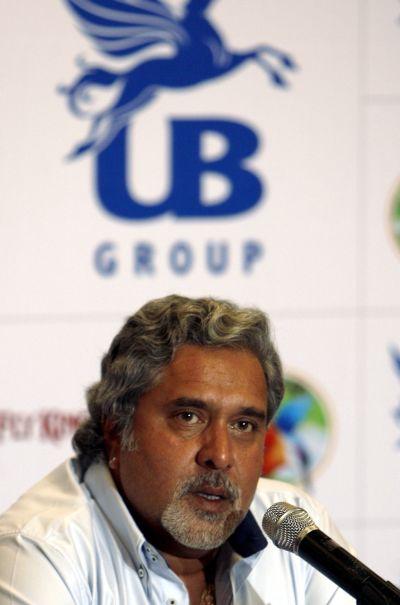 Liquor baron Vijay Mallya-led UB Group has decided to infuse $2 million in a US-based loss making firm Mendocino Brewing Company to revive its fortunes.
UB has also agreed to "favourably consider additional investment to underpin growth based on detailed business plan to be submitted in due course" by Mendocino, the company said in a regulatory filing here.
UB's readiness to invest in the US firm comes even as the group's Kingfisher Airlines in India remains grounded for over a year due to severe financial problems.
Mendocino Brewing Company (MBC), in which United Breweries Holdings Ltd (UBHL) holds 68.1% stake and another group firm United Breweries of America has 24.5% equity, has exclusive licence to brew and distribute Kingfisher Premium Lager beer in certain foreign markets.
UBHL is also the holding company of all the listed entities of Mallya-led UB Group, including Kingfisher.
According to Mendocino's regulatory filing with the US markets regulator SEC, UBHL has agreed "to commit an initial funding of $2 million in four half yearly instalments with the first instalment to be remitted expeditiously."
The investment is being made to "protect and enhance the value of its existing investments in MBC," the company said.
As on September 30, 2013, Mendocino had just $40,700 in cash, an accumulated deficit of $14.27 million and a working capital gap of $7.2 million due to losses incurred and reclassification of debts owing to a US-based bank as a result of the event of default.
The firm slipped into losses during the July-September quarter, as against a slim profit in the year-ago period. With the company battling multiple problems, it approached its majority shareholder UBHL for financial help.
The fund infusion, the firm said, would help it achieve breakeven of US business, meet with bank covenant pertaining to tangible net worth and obtain waiver from the bank for other covenant breaches.
The investment commitment has been communicated by UBHL through a letter addressed to Mendocino CEO Yashpal Singh, a copy of which has been filed with the SEC. UB Group chief Mallya also chairs the board of Mendocino.
UBHL said it would prefer infusing money by way of ordinary voting stock and it has asked Mendocino to advise it on modalities for equity infusion after a board discussion.
Back home, the UB Group is facing difficulties at its aviation venture Kingfisher Airlines for quite some time. The carrier has been grounded since October 2012, primarily due to mounting debt and rising losses, as also non-payment of wages.
The lender consortium has been asking promoters to infuse their own funds into Kingfisher, but no headway has been made despite numerous rounds of negotiations and banks have begun a process of recovering their loans worth nearly Rs 8,000 crore.
Kingfisher's accumulated losses have ballooned to over Rs 16,000 crore and it is yet to make a single full-year profit since starting operations in 2005.