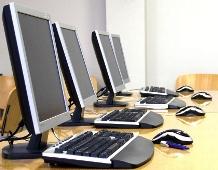 Leveraging latest IT tools and techniques can help India's small businesses boost revenues by $56 billion and help create over a million jobs, says a report by software giant Microsoft.

The research, conducted by global management consulting firm BCG for the Microsoft report, revealed that about 90 per cent of small and medium enterprises in India have no access to the Internet.

"The report -- Ahead of the Curve: Lessons on Technology and Growth from Small Business Leaders -- found that if more SMEs in India adopt latest IT tools there is potential for SME revenue to grow by $56 billion and create 1.1 million new jobs," Microsoft India Managing Director Karan Bajwa said.

According to the government data, micro, small and medium enterprises employ about 59.7 million people spread over 26.1 million enterprises.

In value terms, MSMEs accounts for about 45 per cent of the manufacturing output and around 40 per cent of the total export of the country.

For customers, it means providing product training and helping SMEs understand the full range of available devices and services, but it also means community and industry investments such as skills training, Bajwa said.

"Microsoft and its broad ecosystem of partners in India have helped SMEs grow, compete and become more profitable through the effective use of office productivity tools, cloud-based services and mobile technology," Microsoft India General Manager (Small and Mid-Market Solutions and Partners organisation)
Meetul Patel said.
BCG surveyed Brazil, India, China, Germany and the US and found SME revenue could grow by a combined $770 billion in these five primary countries if more SMEs could achieve the growth rates of those SMEs that use modern IT tools.
"These same SMEs could add some 6.2 million new jobs in those countries alone. BCG believes that this association between IT adoption and growth would be consistent in countries across the world," BCG Senior Partner and co-author of the report Neeraj Aggarwal said.
On India, he said the large informal Indian economy means this potential is not always reflected in official statistics, but there is a big opportunity for both SMEs and policymakers to increase output and employment substantially.
BCG surveyed 4,000 SMEs in these five countries, which included 750 surveyed in India, during July 2013.
"The research revealed nearly 90 per cent of SMEs in India have no access to the Internet, compared with only 22 per cent of SMEs in China and 5 per cent of SMEs in the US," the research said.
The risk of a growing technology gulf is relevant to governments looking to maximises economic growth and it is an opportunity for policymakers and the IT industry to implement strategies to remove barriers to IT adoption by addressing concerns of small businesses about using technology, it added.