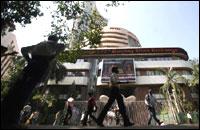 Extending losses, the BSE Sensex plunged over 300 points in the late afternoon trade as RBI's decision to keep interest rates unchanged pulled down rate-sensitive stocks.
The 30-share barometer, which had soared past the 17,000-level by adding 153 points in the morning, plummeted by 302.57 points or 1.79 per cent. It was trading at 16,647.26 during late afternoon.
Similar was the trend at the National Stock Exchange index Nifty which fell 1.70 per cent to 5,051.90.
"The markets were expecting at least a 25 basis point cut, so a status quo policy comes as a disappoint. But the fact is that in spite of significant decline in growth, inflation has remained very sticky in India, creating challenges in monetary policy-making," Angel Broking CMD Dinesh Thakkar said.
The fall in the market was lead by interest rate sensitive stocks such as banking and realty.
SBI [ Get Quote ] was the biggest dampener as it lost 4.11 per cent, while ICICI Bank [ Get Quote ] was trading 3.65 per cent down and HDFC Bank [ Get Quote ] fell 2.68 per cent.
Following the losses in these stocks, the BSE bankex index was trading at 11,210.65, down 3.25 per cent.
Among realty stocks, DLF plunged 4.62 per cent, while Unitech fell by 3.95 per cent.
Led by the decline in real estate stocks, the BSE realty index was trading lower by 2.88 per cent at 1,576.18.
The Reserve Bank today kept interest rates unchanged giving priority to checking inflation over growth, disappointing India Inc and retail borrowers who were expecting at least 0.25 per cent rate cut.
It also rejected the widespread demand for reduction in Cash Reserve Ratio (CRR) to pump in more money into the banking system.