The rupee is expected to appreciate further from the current levels, while government bond yields might drop. The movement of the rupee and government bond yields will, to a great extent, depend on the outcome of the Reserve Bank of India's (RBI) bi-monthly monetary policy to be announced on Tuesday. The broad expectation of the Street is that key policy rates will be unchanged, thanks to softening inflation. The guidance of the monetary policy is also important for the markets.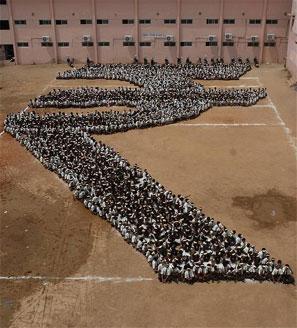 Dollar flows in domestic markets are expected to continue but state-run banks are seen mopping the flows to boost RBI's foreign exchange kitty.

On Friday, the rupee hit an eight-month high, ending at 59.94 to a dollar, although it saw stiff resistance around 60.4, with government banks buying dollars on RBI's behalf. The Indian currency has appreciated almost 13 per cent since it hit a nadir on August 28, 2013, when it touched 68.85 to the dollar during intra-day trade.

"The rupee may trade in the range of 59.75 to 60.50 per dollar this week," said Mohan Shenoi, president (group treasury and global markets)
at Kotak Mahindra Bank.
Currency dealers agree RBI will continue to buy dollars from the market even this week. "RBI does not want the rupee to appreciate too fast as this would hurt exporters," said a currency dealer.
Government bond yields would appreciate a few basis points if RBI maintains status quo on key rates. "The broad range for the 10-year benchmark bond seen next week is between 8.75 per cent and 8.95 per cent," said Dwijendra Srivastava, head of fixed income at Sundaram Mutual Fund.
The yield on the 10-year benchmark government bond 8.83 per cent 2023 ended at 8.80 per cent on Friday, compared with its previous close of 8.82 per cent.
The government will borrow a gross Rs 3.68 lakh crore in the first half of the financial year beginning on April 1, which is 61.6 per cent of the full-year target. This is according to market expectations, because of which the yields are not seen inching up in a major way this week.