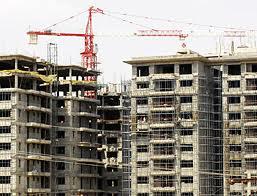 Real estate stocks can rally in Samvat 2070, the new Hindu calendar year just begun, if the Reserve Bank of India goes for rate cuts or economic growth sees a turnaround after the general election, say stock market experts.
The BSE Realty Index has lost nearly 90 per cent since the markets peaked in 2008.

This index lost 24 per cent in the past year, during which the benchmark Sensex rose 14 per cent.

The stock of DLF, the country's largest developer, has lost 23 per cent and that of Oberoi Realty 29 per cent in 12 months.

"The worst for real estate is over.

"The stocks are at distress valuations. From here, I see 50-60 per cent returns in real estate stocks in the next one year," said A K Prabhakar, an independent equity analyst.

"But such a rally also depends on rate cuts or any green shoots in the economy."

Jitendra Panda, chief executive at Peerless Securities, says till elections take place, projects get launched and the economy sees a turnaround, the sector will continue to languish.

"Demand has been down in the sector due to slowdown in the economy, which led to liquidity issues," he said.

According to realty consultant Knight Frank, home sales have come down by a third in cities such as Mumbai, due to high prices and low demand.

Lease transactions have also dried, curbing the cash flows of developers, consultants said.

Experts say the euphoric growth in 2008 was not backed by fundamentals.

"The stocks were doubling and trebling then.

"But such price growth was not sustainable.

"When prices crashed, developers could not repay their debt," said Prabhakar.

Added Panda: "Post 2011, when rates started moving up, demand got impacted."

Much of the investment made was not able to make money. That is why investors lost interest in the sector."

The central bank has raised rates a dozen times since March 2010, to curb inflation.
The image is used for representational purpose only