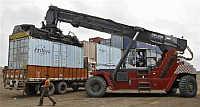 The Pakistani army refused to allow trucks from India carrying goods at cross-Line of Control trade point in Poonch district of Jammu and Kashmir, in the backdrop of tension in bilateral relations following ceasefire violations which killed two Indian troops.
Twenty-five trucks carrying goods, mostly vegetables, from India were not allowed to cross the LoC and enter Pakistan-Occupied Kashmir at Chakan-Da-Bagh, officials of the Trade Facilitation enter at Poonch said.
As the trucks carrying goods for POK traders reached Chakan-Da-Bagh crossing point to enter the trade center at Rawalakote after clearance at TFC, the Pakistan army did not open the gates and conveyed this to Indian Army authorities at the point.
With the stranding of 25 trucks, a total of 65 trucks are now lined up waiting to move into POK from Chakan-Da-Bagh
crossing point. Most of these trucks are carrying perishable goods, particularly vegetables.
Two Indian jawans were brutally killed in a raid by 29 Baloch Regiment troops of Pakistan who had intruded into Indian territory in Poonch sector on January 8.
This is the second time LoC trade has come a halt after the Pakistan Army refused to open the gates during the past 8 months.
LoC trade had come to a halt on June 14 last year due to closure of gates at Chakan-da-Bagh border point following heavy LoC firing, shelling and ceasefire violations since June 11 last year in which two Indian jawans were killed and four injured.