Office space leasing in the Delhi-NCR region jumped more than three-fold to nearly 1.5 million sq ft during the January-March period, mainly due to higher absorption by IT firms in Gurgaon, says a report by property consultant Cushman & Wakefield.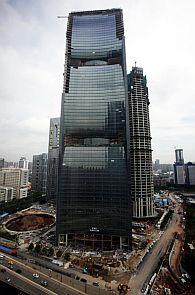 Net absorption during the first quarter of this calendar year rose sharply to 1.48 million sq ft from 463,900 sq ft in the corresponding period of the previous year.
"The net absorption was recorded at 1.48 million sq ft, significantly higher compared to the same quarter last year; driven by IT-ITeS occupiers, followed by consulting and engineering," C&W said in latest quarterly office market report (Jan–Mar 2014).
Net absorption does not include lease renewals and relocations to same sized office spaces.
The majority of the net absorption was observed in the sub-markets of Gurgaon, followed by Delhi. Additionally, nearly 1 million sq ft of space was pre-committed in the first quarter of 2014 by IT-ITeS and BFSI (banking, financial services and insurance) occupiers in Gurgaon.
However, supply of office space in the NCR region dropped by 22 per cent to 1.72 million sq ft.
"The weighted average rental values across sub-markets weakened marginally, primarily due to increased availabilities in properties quoting lower rents," C&W said.
Overall vacancy rate at the end of the quarter stood at 25.4 per cent, a marginal decline of 0.2 percentage point.
Unlike Delhi-NCR, Mumbai office market witnessed an overall net absorption of approximately 750,000 sq ft during the first quarter of 2014, witnessing a year-on-year decline of 8 per cent.
"This decline was due to lower expansions by companies and deferment in take-up until the upcoming state and general elections," the consultant said.
"Lower demand resulted in weighted average rentals in the CBD (central business district) declining by 3.7 per cent over the quarter. However, they continued to remain stable at all other locations across the city," it added.
In Mumbai, the overall vacancy levels increased by 0.14 percentage points at 16.9 per cent at the end of Q1 2014.