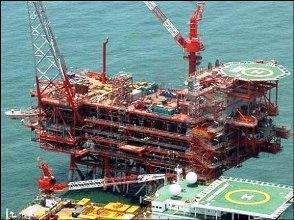 The Indian Oil Corporation is planning to spend Rs 11,000 crore (Rs 110 billion) in the current financial year, on projects in the refinery, marketing, pipeline and petrochemical divisions.

A senior company executive said a large part of this investment, about Rs 5,000 crore, would go to the Paradip refinery.

"We want to commission the delayed coker unit, atmospheric vacuum unit and diesel hydrotreater in the next few months," said a senior IndianOil executive.

IndianOil has been looking for 3,000 acres in Gujarat, Karnataka or Maharashtra to set up a new refinery on the western coast, said the official.

Its other refinery on the western coast, at Koyali, Gujarat, will see an expansion from its current 13.7 to 18 million tonnes per annum by 2016-17.

The company has done the detailed feasibility report and would be finalising the investment soon.

"We are yet to figure out the configuration for the Gujarat refinery. The investment will be based on the same," the official added.

Another Rs 300 crore (Rs 3 billion) would go into upgrading its Mathura refinery in Uttar Pradesh, through revamping of its fluidised catalytic cracking unit from 1.3 million tonnes per year to 1.5 million tonnes per year.

It plans to spend another Rs 300 crore (Rs 3 billion) on its Ennore LNG project aiming to complete it by 2016. In petrochemicals, IOC plans to spend around Rs 360 crore (Rs 3.6 billion) to set up an acetic acid factory in Gujarat.

The company has earmarked another Rs 1,300 crore (Rs 13 billion) to be invested in three cross-country gas pipelines over the next one year.

The pipelines would be laid by a consortium of the three oil marketing companies:
IndianOil, Bharat Petroleum Corporation and Hindustan Petroleum Corporation and Gujarat State Petronet.
These pipelines are: the 1,625-km pipeline from Mehsana in Gujarat to Bhatinda in Punjab with 77.11m cubic meters per day capacity; the 1,746-km pipeline from Mallavaram in Andhra Pradesh to Bhilwara in Rajasthan with 76.25m cm/d capacity; and the 750-km pipeline from Bhatinda to Srinagar in Kashmir with 42.4m cm/d capacity.
The company would be spending another Rs 400 crore in laying a five million tonnes per year crude pipeline from Paradip in Odisha to Ranchi in Jharkhand.
"Investment in pipelines and refineries, specially Paradip, would form the major chunk.
"We would be investing around Rs 300 crore (Rs 3 billion) to set up a 680,000 tonnes per year polypropylene unit by 2016-17," the official added.
IndianOil controls 10 of India's 22 refineries, with a group refining capacity of 65.7 million tonnes per annum or 1.30 million barrels a day -- the largest share among refining companies in the country, accounting for 31 per cent share of domestic refining capacity.
Next comes Reliance Industries that plans to invest $4 billion in the refining business over the next four years by setting up a petroleum coke gasification project that would produce synthetic natural gas, which would replace expensive LNG as fuel.
RIL would spend $11 billion in oil and gas exploration, including US shale gas venture.
HPCL, another government-controlled refining company, plans to invest about Rs 3500 crore (Rs 35billion) this financial year.
"Every year we spend Rs 3,000 crore (Rs 30 billion) on marketing, infrastructure and ongoing projects.
"This year we may be spending about Rs 3,500 crore (Rs 35 billion)," said a senior HPCL executive.