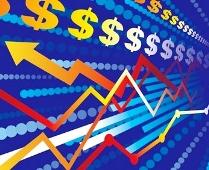 Global rating agency Fitch expects India's economy to grow by 8.7 per cent in 2010-11, which means that growth may slow down in the second half of this fiscal.
"Fitch expects economic growth of 8.7 per cent in FY11," the rating agency said.
Since Indian economy grew by 8.9 per cent in the first half, Fitch projections mean that it will expand by a slower growth rate in the second half.
The growth rate projected by Fitch is higher than that estimated by Prime Minister Manmohan Singh but lower than forecast by the Finance Ministry's Mid Year Review.
The PM expects the country's economy to grow by 8.5 per cent in the current fiscal, while Mid Year Review forecast up to 9.1
per cent growth in the current year, subject to improvement in the European economic conditions.
However, Fitch expects the country's economy to grow slightly less in the next fiscal, at 8.5 per cent.