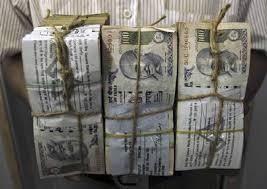 The Indian rupee recovered after hitting a one-week low on Thursday as dollar sales by custodian banks aided, but losses in domestic shares and regional peers after minutes from the US Federal Reserve meeting showed it would stick to its tapering schedule prevented further gains.

Emerging Asian currencies slid on Thursday, led by the South Korean won on concerns over a slowing Chinese economy and as the Fed is seen scaling back its stimulus at the current pace of $10 billion a month.

Indian shares snapped four consecutive sessions of gains as blue-chips including ICICI Bank were hit by profit-taking after regional markets were hit after a private survey painted a grim picture of China's manufacturing sector.

Traders, however, said foreign banks sold dollars on behalf of their
clients who had bought equities on Wednesday. Foreign exchange and debt markets were closed on Wednesday for a local banking holiday but stocks were trading.
"There was some selling from foreign banks. There are no major triggers in the near-term and we should see the pair consolidate between 61.70 and 62.80," said Hari Chandramgethen, head of foreign exchange trading at South Indian Bank.
The partially convertible rupee closed at 62.26/27 per dollar compared with 62.20/21 on Tuesday.
Earlier in session, the rupee fell to a low of 62.45.
Foreign exchange and bond markets were shut on Wednesday for a local holiday.
Traders will continue to monitor the dollar's moves versus majors and other Asian units for direction in the absence of any other domestic triggers.
In the offshore non-deliverable forwards, the one-month contract was at 62.56, while the three-month was at 63.47.