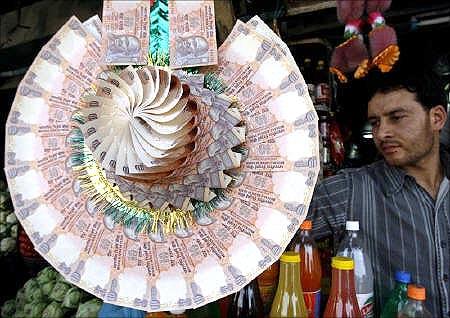 Continuing its range-bound movement for the fourth session, the rupee today closed up by two paise at 59.25 ahead of industrial output and retail inflation data.
A smart recovery in local stocks amid stray dollar selling by exporters helped the rupee close in the positive terrain, a forex dealer said.
At the Interbank Foreign Exchange (Forex) market, the domestic currency resumed lower at 59.33 a dollar from last close of 59.27 and eased further to a low of 59.3650.
It later rebounded to a high of 59.23 before settling at 59.25, showing a rise of mere two paise or 0.03 per cent.
"Continuing its range bound movement for the fourth straight session, rupee closed at 59.25 levels. Dollar was seen gaining momentum against Asian currencies including rupee but gains in the domestic stock markets capped rupee losses," said Abhishek Goenka, Founder&CEO, India Forex Advisors.
The rupee has gained two paise each in two successive days. It lost nine paise on June 10 and three paise on June 9.
The equity benchmark S&P BSE Sensex today bounced back by 102.32 points, or 0.40 per cent. FIIs sold shares worth Rs 313.40 crore yesterday, as per provisional data with bourses.
The dollar index, a gauge of six major global rivals, was up by 0.02 per cent in evening trade.
Pramit Brahmbhatt, Veracity Group CEO said, "Rupee continued to trade range bound. Local indices closed positively on hopes that economic data due later in the day may show easing retail inflation compared to last release and are also expecting the growth in the industrial sector.
The trading range for the Spot USD/INR pair is expected to be within 59.00 to 59.80." Meanwhile, premium for forward dollar remained weak on sustained receipts by importers.
The benchmark six-month premium payable in November dipped to 230-232 paise from 238-240 paise previously. Far-forward contracts maturing in May, 2015 also tumbled to 468-470 paise from 483-485 paise.
The Reserve Bank of India fixed the reference rate for dollar at 59.3283 and for the euro at 80.3036.
The rupee fell back against pound to 99.70 from previous close of 99.46 while recovered against the euro to 80.14 from 80.34. It firmed up to 58.04 per 100 Japanese yen from 58.15.