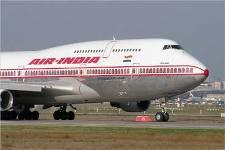 The government on Wednesday said it is working on a compensation package that it will claim from US aircraft maker Boeing for the financial losses suffered by the national carrier on account of frequent glitches in the Dreamliner aircraft but ruled out any re-think on deliveries.

"Air India is working on compensation. . .

"The aircraft is most fuel efficient.

"It has changed the financial margins of the system," Joint Secretary in Civil Aviation Ministry Ashok Kumar told PTI on the sidelines of the 4th edition of the India Aviation show in Hyderabad.

Kumar was responding to a question on whether Air India was open for a review on the further deliveries of the Dreamliners in view of the technical issues.

The national carrier, which had placed orders for 27 Dreamliners in 2006, has so far taken the delivery of 13 aircraft.

It is scheduled to induct another 14 Boeing
Dreamliners over the next two years.
Ever since its induction in the national airline fleet, the much-touted fuel efficient aircraft from the US aircraft maker Boeing has been giving sleepless nights to the carrier with frequent grounding due to technical issues.
"Air India has reported above 337 glitches in the aircraft which is much lower than the glitches which have been reported by other airlines in similar aircraft.
Moreover, any aircraft, which flies for the first one and a half years, there are lot of things which happen. And these glitches have nothing to do with the safety issue.
"Boeing is also working on sorting out glitches," the official said.
To a question on the compensation from Boeing for the losses accrued due to the grounding of the aircraft, Kumar said Air India is working on a proposal seeking compensation from the aircraft maker.
"The compensation that Air India had sought earlier for the delayed deliveries has already been agreed upon and Boeing has started making the payments also," he added.