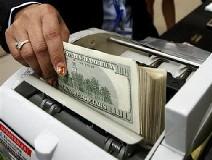 Overseas investors have pumped in over Rs 16,000 crore ($2.6 billion) in the Indian debt market in the new year so far, after being net sellers of bonds in 2013.

The inflows came against the backdrop of US Federal Reserve's decision to start reducing its bond purchases by $10 billion, to $75 billion, from this month.

The US Fed decision to taper its monthly bond-buying programme raised concerns that funds available for investing in the emerging markets may be reduced.

According to market experts, FII inflows in the debt market are returning on account of some stability observed in foreign exchange and interest rates.

Foreign Institutional Investors were gross buyers of debt securities worth Rs 22,937 crore (Rs 229.37 billion), and sellers of bonds to the tune of Rs 6,785 crore (Rs 67.85 billion) till January 17, resulting in a net inflow of Rs 16,152 crore ($2.61 billion),
according to the Sebi data.
Foreign institutional investors also invested Rs 2,148 crore ($349 million) in the equity market.
Their total investment in debt and equity was about Rs 18,300 crore ($2.96 billion). In 2013, overseas investors pulled out a net amount of Rs 50,847 crore ($8 billion) from the bond market, while they infused a net Rs 1.13 lakh crore ($20.10 billion) in equities.
As of January 17, the number of registered FIIs in the country stood at 1,726 and the total number of sub-accounts was at 6,366.