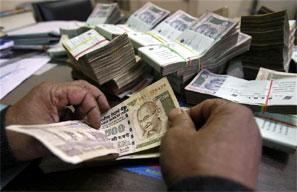 IT companies account for a third of the entire dividend pot this year
The current rally in Dalal Street has not translated into bigger dividend income for shareholders. Dividend outgo by India's top companies nearly halved in 2013-14 to 16 per cent from 30 per cent the year before, growing at its slowest pace in the past five years.
For Nifty companies, which have announced dividends for FY14, the outgo is up 17 per cent this year, down from 27 per cent growth in the past year. The numbers would have been worse if not for information technology (IT) majors, which stepped up payouts this year in line with the rise in their profits.
These were helped by select private sector banks such as HDFC and YES. Manufacturing companies, however, disappointed, with a single-digit rise in dividend outgo despite a rally in their share prices in the past two months.
Historically, there is a positive correlation between dividend outgo and share price. Share prices rally in expectation of higher dividend outgo and vice versa. In that sense, the recent rally in rate-sensitive and cyclical companies could fizzle if it doesn't translate into higher profits and dividend outgo this year.
In the past five years, dividend outgo by our sample of companies has grown at a compound annual growth rate of 23.5 per cent, in line with a 2.7 per cent rise in their market capitalisation.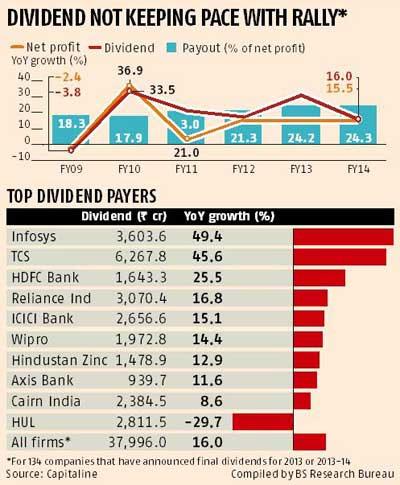 Dividend outgo by IT companies was up 41 per cent in FY14, against a cut in FY13. In comparison, IT companies' net profit was up 27.4 per cent in FY14 leading to an increase in their payout ratio. On average, IT companies distributed a little over 31 per cent of their net profits as dividends this year, against 28 per cent in the past year. In all, IT companies account for a third of the entire dividend pot this year, up from 27 per cent in the past year (see chart).

Excluding IT companies, dividend growth falls to 6.6 per cent against 52.5 per cent in FY13. This is partly due to a 30 per cent cut in payout by Hindustan Unilever, traditionally one the biggest dividend payers.
In FY13, the consumer goods major also declared a one-time special dividend. The analysis is based on numbers for 134 companies that have announced dividends for FY14 so far.
This includes those which see their financial year ending in December and have announced/paid dividends for calendar year 2013. Tata Consultancy Services (TCS) leads the charts so far, with total outgo of Rs 6,268 crore (Rs 62.68 billion), up 45.6 per cent over last year.
It is followed by peer Infosys, which plans to pay Rs 3,603 crore (Rs 36.03 billion) as equity dividend this year, an increase of nearly half over last year. Both had cut dividend outgo last year. Wipro, the third biggest IT exporter is paying Rs 1,972 crore (Rs 19.72 billion), up 14.4 per cent over last year.

IT majors could lose their first position once other big dividend payers announce their results later this month — examples are Oil and Natural Gas Corp (ONGC), Coal India, ITC, State Bank of India and NTPC. Historically, ONGC has led the charts; it distributed a little over Rs 8,000 crore (Rs 80 billion) of dividends in FY13.

Reliance Industries' dividend pot has been the third biggest with a planned award of Rs 3,070 crore (Rs 30.7 billion) this year, growth of 16.8 per cent from FY13. It is followed by Hindustan Unilever (Rs 2,811 crore), paying 30 per cent less, as it had paid a special dividend in FY13.

Outside IT, HDFC Bank has been most generous, raising dividend outgo by 26 per cent to Rs 1,643 crore (Rs 16.43 billion) for FY14. Bigger ICICI Bank, however, is a laggard with a 15 per cent rise in dividend outgo this year to Rs 2,657 crore (Rs 26.57 billion). Axis Bank also disappointed with a 12 per cent rise. In all, banks and financial companies are paying 11.4 per cent higher dividends for FY14, down from 26.4 per cent growth in FY13.

Analysts expect IT companies to continue to be generous with dividends. Economic recovery in the US and Europe, coupled with a weak rupee, would translate into even faster top line and bottom line growth for IT companies next year. This would translate into higher dividend outgo by these, says G Chokkalingam, founder, Equinomics Research & Advisory.