India's consumer inflation should ease in the next two months, and will fall to 8 per cent by the end of the year, Reserve Bank of India (RBI) Governor Raghuram Rajan said in an interview with TV news channel CNN-IBN.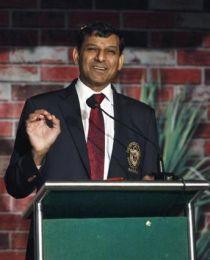 The comments came after the RBI unexpectedly raised interest rates by a quarter percentage point on Tuesday, marking its third hike in five months.

The consumer price index eased to a three-month low of 9.87
per cent in December. A central bank panel last week had recommended bringing down the retail inflation gauge to below 8 per cent by January 2015.
"There is some disinflation in the system. What was 9.87 is going to come down further next month, and probably a little further into March," Rajan told
CNN-IBN
.
"We are setting rates at a level that we think is consistent with that disinflation for us to get some bite and for the inflation in the system to come down to about 8 per cent at the end of the year."