U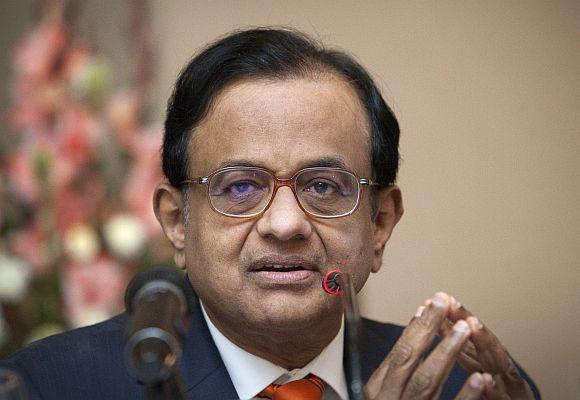 nion Home Minister P Chidambaram [
Images
] on Wednesday questioned reports of rating agencies on the Indian economy.
"I think we tend to overreact to rating, as you see in reports. In fact, some of these rating agencies have very poor records in the past. I think we need not see reports of rating agencies as the final word on the country's economy," said Chidambaram, part of a group of ministers (GoM) on a visit to Ahmedabad [
Images
].
Minister of Information and Broadcasting Ambika Soni and Minister for Law and Justice Salman Khurshid were the other members of the GoM.
On Monday, Standard & Poor's had brought out a report on how India [ Images ] could be the first BRIC [ Images ] (Brazil [ Images ], Russia [ Images ], India and China) nation to lose its investment-grade rating.
"The challenge we face on Wednesday is nowhere near what we faced in 1991. It is also nowhere near the Asian domestic crises in 1997. We have overgrown those challenges. We have put India on a high growth path," he said.
He also said inflation was "unacceptably high". "Inflation has come down. But it has to be lower. Fuel prices during the NDA (National Democratic Alliance) period averaged $32 a barrel. While in UPA-I (the first term of the United Progressive Alliance [ Images ] government), when I was finance minister, it averaged about $80 a barrel, on Wednesday, the average is $110 a barrel," he added.
"High crude oil prices are fuelling the price rise compounded by the fiscal deficit and the current account deficit. We have controlled inflation. We believe crude oil prices will moderate in coming months and gradually, inflation will come down," he added.
When asked about the development in Gujarat, the ministers said, "There is development in Gujarat, just as there is development in any other state of the country. There are many states which are doing well. Some are doing better than the national average growth."
They said when the UPA government had come to power, Gujarat's Plan outlay (2005-06) was Rs 11,000 crore. In 2012-13, it was Rs 51, 000 crore. "Of course, Gujarat's own resources, as well as the Centre's resources, are involved," the group said.
On Gujarat Chief Minister Narendra Modi's [ Images ] claim that the Centre was unjust to the state, Khurshid said, "That is not correct. There is no discrimination against any state by the Centre." He added there were no statistical data to show minorities in Gujarat were better off than their counterparts in other states, as claimed by Modi in his public speeches.
The GoM also gave statistics to justify there was no discrimination against Gujarat, as alleged by Modi. The ministers said in 2011-12, the Centre's assistance to Gujarat stood at Rs 4,471 crore, while the state's share of central taxes and duties in the 12th five-year Plan was Rs 21,900 crore.
On the issue of a sub-quota to minorities from other backward classes, Khurshid said all relevant data would be given to the Supreme Court. He added the sub-quota was successfully operational in eight states and based on that, the UPA government was planning a similar quota from the central level.