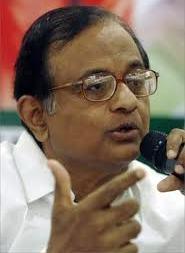 Confident of achieving 5 to 5.5 per cent growth in the current fiscal, Finance Minister P Chidambaram on Friday said the green shoots are visible and measures taken by the government will help the economy achieve the potential growth rate of 8 per cent.

Addressing bankers and economists at Bancon 2013, a flagship event of the Indian Banks' Association, Chidambaram told the lenders to deal firmly with wilful defaulters, but handhold those who are reeling under the impact of the economic slowdown.

The minister asked the bankers not to desist from taking decisions and promised to defend them in case of bonafide decisions going wrong.

Inflation, especially the food prices, he added, has continued to remain a challenge for the government.

Referring to the state of economy, Chidambaram said, "the green shoots that are visible here and there, will multiply and the economy will revive.

"There will be an upturn in the second half of this year and it is quite possible that the estimates made by the Reserve Bank or the PMEAC or the government of growth between 5-5.5 per cent will be realised."

The economic growth rate slipped to decade's low of 5 per cent in 2012-13 and during the first quarter of current fiscal it stood at 4.4 per cent.

The growth figures for the second quarter are scheduled to be announced on November 29.

Asking the banks to help the industry in difficulty, Chidambaram said, "while we should be stern to wilful defaulters, we must hold the hand of those who are victims by external circumstances.

"This is the period for bankers and customers to work together to keep faith in each other because when we come out of the trough. . . when upturn begins and when we see growth quarter after quarter that (would be the) time when most banks would be healthy, balance sheets would become healthy."

Regretting that often the decisions were questioned by authorities, the Minister asked the bankers not to desist from taking decisions based on facts and circumstances at a given time.

"As far as government is concerned, I assure you as long as you take decision based on facts and circumstances available to you at that time and do it at an appropriate level and an appropriate committee or an appropriate forum and exercise your best judgement we will defend you ,"he said.

The minister stressed that "no business can survive and person can take a decision if every decision is questioned as motivated or malicious. . . .I think that would be most dangerous decisions that authorities can take and I would strongly advise that is not the approach to adopt."

A decision could turn out to be a poor decision or even wrong decision, but that does not mean that it was a dishonest or a malicious decision, he added.

Referring to growth, Chidambaram said that it was a pity for a country of India's size not to achieve its potential growth rate of over 8 per cent.

"Given that savings are above 30 per cent of GDP, and given the normal incremental capital-output ratio . . .the measures that we have taken will yield results and we will get back to the high growth path.

"Movement towards the high growth path will be visible in 2014," he added.As regards the price situation, Chidambaram said managing inflation was 'the most difficult challenge'.

He said that Wholesale Price Index inflation, which was 1.9 per cent in 2009, has risen to 7 per cent.

The retail inflation measured by the Consumer Price Index was above 10 per cent, while the food inflation over 12 per cent.

"We were able to contain WPI inflation for most part of this year, until the recent spurt. . .We have not been able to contain CPI based inflation mainly because it is driven by food items especially fruits, vegetables, eggs, meat and other items", he said.

Pointing out that monetary policy did not have any impact on food prices, the minister said, 'the only way we can contain food inflation is to augment supplies. . . For supplies to rise you need greater investment, greater production, greater distribution, you need better logistics and you need to reach the products to stores.

"We have a challenge and we have to take note of that challenge and we have also to recognise that challenge brings with it a number of steps that are required, what we would call policy including monetary policy."

Referring to the issue of fiscal deficit, the minister said, "we will do whatever it takes to contain fiscal deficit in current fiscal to 4.8 per cent of gross domestic product. "It is a red line, a red line which we can breach only at our peril.

"We will not breach that red line and we will contain the fiscal deficit."

As regards the current account deficit deficit, the Minister said, "last year we had an unprecedented $88 billion of CAD. "It was minor miracle that we were able to finance it fully.

"And even add small amounts to our reserves."

The government initially proposed to bring down the CAD, the difference between inflow and outflow of foreign exchange, in the current financial year to $70 billion and later improved the target to $60 billion.

"Two days ago the Reserve Bank of India Governor (Raghuram Rajan) said CAD would be contained at $56 billion or below.

"I am trying to do better and contain CAD at below $56 billion this year", the minister said.
Image: P Chidambaram