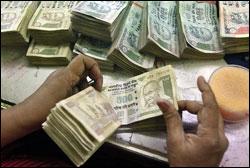 After sending notices to companies, the finance ministry has zeroed on errant individual tax assessees. The ministry on Monday said it had identified 1.2 million Permanent Account Number (PAN) holders who had not filed their returns, despite being high spenders.
"The directorate of systems of the income tax department has undertaken a business intelligence project to identify PAN holders who have not filed income tax returns and about whom specific information is available," the ministry said here.
The information is available in 148 codes of annual information returns, central information branch data, tax deducted at source and tax deducted at source returns.
Information in the cash transaction reports of the financial intelligence unit was also included.
"This data analysis has identified a target segment of 12,19,832 non-filers linked to more than 47 million information records. Rule-based algorithms have been used to identify high priority cases for follow-up and monitoring," the statement said.
An official said the identification of these many non-filers was unprecedented.
Of these, 35,000 are being sent letters.
"In the first batch, letters are being sent to 35,170 PAN holders by the directorate of intelligence and criminal investigation," the ministry statement said.
The letter contains the summary of the information of financial transaction(s), along with a customised response sheet, and seeks to know whether the person had filed a return or not.
"A nodal cell has been set up to capture the response. There will be an online monitoring system to ensure follow-up action and track return filing and tax payment of the target segment," the ministry added.
There is a huge mismatch between PAN card holders and IT returns filed. According to a report by the Comptroller General of Accounts (2010-11), a total of 95.8 million PAN cards were issued up to March 2010, but the number of I-T returns filed during 2009-10 fiscal added up to a mere 34.1 million.
According to a report, while 121.1 million PAN card holders were there up to March 31, 2011, the number of tax returns filed were just 34.8 million during 2010-11.
The finance ministry, through the statement, also appealed to all tax payers to disclose their true income and pay appropriate taxes within the current financial year.