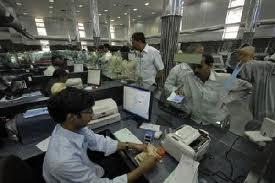 The country's leading bankers are almost certain of a third consecutive policy rate increase from the Reserve Bank of India (RBI) in its mid-quarter policy review next month.

Speaking at the Business Standard Banking Round Table in Mumbai on Tuesday, panelists said another repo rate hike seemed inevitable, though it might not be a desirable option.

Chanda Kochhar, managing director & chief executive officer, ICICI Bank, said RBI had made it very clear that it wanted interest rates to be the tool to control inflation.

"Since inflation continues to be high, you can expect one more hike in December," she added.

Almost all panelists supported Kochhar's view. HDFC Bank MD Aditya Puri said: "It is inevitable, if inflation doesn't cool down.

"The fact of the matter is that you cannot bring the interest rates down till you solve the infrastructure around it."

His counterpart at HSBC India, Stuart Milne, expects a 25-basis-point rate hike.

"While we all would like interest rates to come down, the fact is that they can't, unless inflation numbers come down."

There was, however, a word of caution from Axis Bank MD & CEO Shikha Sharma, who said a benign interest rate regime was required for consumption growth to continue.

"While RBI will decide the right policy for growth and inflation, I don't think standard economics has all the answers to the problems in a fast-evolving world," she said, adding it was debatable whether inflation should be the only factor to determine interest rates.

Kochhar also said easing of interest rates was desirable, considering the growth compulsion of the economy.

Also, it would enable better servicing of loans.

Bankers were, however, confident the country was in a much better position to face the US Fed's tapering programme.

Citi India CEO Pramit Jhaveri said while tapering was inevitable, "RBI is in a much stronger position to deal with that, as and when it happens".

He expects inflows worth $22-24
billion from the two swap windows made available by the central bank.
The central bank had received $17.5 billion under the special concessional window for swapping Foreign Currency Non-Resident (Banks) Deposits and Overseas Foreign Currency Borrowings, as on Monday.
The bankers felt the worst was over on economic growth, which fell to a decade-low of five per cent in last financial year.
"With good growth expected in agriculture, exports picking up and some stalled projects re-starting, we will see better gross domestic product growth in the last two quarters of the current financial year, as compared to the first two," Puri said.
However, return to the high growth path would be slow and gradual, said Kochhar.
That's because revival of investment cycle remained the key. Bankers said the pipeline of fresh investment was still dry, with supply-side bottlenecks yet to be resolved.
In addition, clearances related to environment and land was blamed for stalled projects.
"Companies are apprehensive whether the time is right for making fresh investments.
There is also an apprehension over return on investments or capital," said Union Bank of India CMD Debabrata Sarkar.
Foreign banks, which recently saw a new set of norms on subsidiarisation, didn't sound too excited.
"Whether we operate as branch or subsidiary is not really material in terms of HSBC's strategy in India," Milne said.
On his part, Jhaveri said Citibank was still exploring all options and studying the guidelines carefully, as "the devil is in the details".
In any case, he said: "I don't think our strategy, even if we were given unfettered access to branches, is ever going to be to try and compete with our friends on the table.
"At the end of the day, they have 3,000 to 4,000 branches, and I don't think that for a bank like Citi, over the next five to ten years, we are looking at several hundreds or thousands branches."