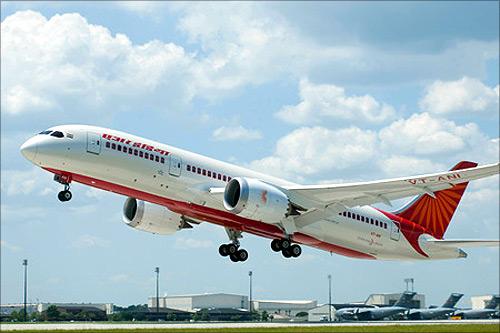 Air India has secured a $200-million (Rs 1,200-crore) bridge loan from the Bank of India for financing the purchase of two Boeing 787s.
The loan has a tenure of twelve months and carries an interest of four per cent, an airline executive said.

The aircraft are pledged as security against the loan. Air India has thirteen B-787s and will induct two more by end- May to launch services to Moscow and Rome Milan.
Totally, Air India has 27 Boeing 787s on order and will be taking deliveries of 20 of them by end of March 2015.
"The loan is dollar denominated and is through Bank of India's London branch. We will re finance the acquisition through sale and lease back. We will be inducting all 27 Boeing 787s as these offer 15 percent fuel efficiency,'' the executive added. So far the national carrier has completed sale and lease back on seven B787s in its fleet.